This quick and easy almond milk rice pudding recipe is not only extremely delicious, but also happens to be dairy free, gluten free, egg-free, soy-free, oil-free, Low FODMAP, Kosher, and vegan.
There are many reasons why this dairy-free almond milk rice pudding recipe is friendly for people with Crohn's disease and ulcerative colitis, even during an IBD flare.
Contains only 1 g of fiber per serving, which may be useful for the short-term control of GI dysfunction and reduce the amount of stool output in those suffering from IBD flare ups.
Contains no artificial sweeteners, as it is sweetened naturally with maple syrup.
Packs a nutrient punch despite its small portion size, which may help IBD warriors fit in more nutrition throughout the day.
Contains Arborio rice, which contains some protein. Protein needs may be higher during flare ups and aiming to get some protein at each meal and snack may be recommended.
Contains significant amounts of Vitamin A and Calcium, making it a good source of antioxidants as well as containing benefits in protecting your bones!
Can I freeze my rice pudding?
Rice pudding happens to be one of the few rice dishes that freeze exceptionally well. Being dairy free, it has a longer lifespan than other dishes made with milk or other dairy products. If you store it properly, it's delicious texture and taste will be sure to last!
Rice Pudding vs. Tapioca pudding?
Rice pudding and tapioca pudding vary in taste, texture, and nutritional content. Rice pudding has a milder taste and smoother texture than tapioca pudding, making it a better base for making the dish your own with little conflicting flavors.
From a nutritional standpoint, rice pudding also contains more protein when compared to its tapioca counterpart, which may benefit people with IBD and those looking for a more satiating dessert or snack.
Will a Dairy Free Rice Pudding Thicken?
Worried about your rice pudding having that thick and creamy texture while still being dairy free? Don't be! This dairy-free almond milk rice pudding recipe requires less milk than a standard rice pudding recipe, ensuring that the final product will be that rich consistency you crave! This recipe also uses Arborio rice, which stays firm and chewy even after being cooked down, making it the perfect choice for this dish.
Let's take a look at the nutritional benefits of rice pudding by examining its 3 key ingredients
Benefits of Arborio Rice
Arborio rice is rich in protein. The 3 grams of protein contained in 1 serving of this recipe comes primarily from the arborio rice. It can act as a satiating snack option for those looking to indulge in smaller, frequent meals, and will keep you fuller for longer!
It is also packed with Vitamin A (10% of the daily recommended value) and calcium (44% of the daily recommended value), keeping your bones strong and providing you with a great source of antioxidants. Keep that immune system strong!
Arborio rice makes this dish gluten-free
Not only is Arborio rice rich in protein and packed with vitamins and minerals, but it is deliciously gluten free! It is therefore safe to consume for those suffering from gluten intolerances. Rice can also thicken loose stool, making it a great option for people experiencing diarrhea.
Benefits of Unsweetened almond milk
Almond milk is a perfect dairy-free milk alternative for those suffering with Crohn's or UC. It is also lower in calories, coming in at about 39 kcals per cup. Additionally, if fortified, almond milk may contain even more calcium than cow's milk.
We used unsweetened almond milk in this recipe, as concentrated amounts of sugar found in sugar-sweetened beverages may make diarrhea worse.
Some of our favorite almond milk brands (that we are not paid or sponsored to mention) include
Malk: almond milk
Elmhurst: unsweetened almond milk
Three-trees almond milk unsweetened
Benefits of Maple Syrup
Our recipe is sweetened with maple syrup, which is a natural sweetener that is low FODMAP. It also contains several antioxidants, which its table sugar counterpart does not have!
Why Make This Recipe on the Stovetop?
While rice pudding can be made in the oven, traditional recipes usually take three to three and a half hours to cook, with additional stirring required every thirty minutes! If you're like us and are lacking the patience for that, stovetop pudding may be a better option. This stovetop dairy-free almond milk rice pudding recipe takes 45 minutes from start to finish to prepare, which includes 10 minutes of cool time!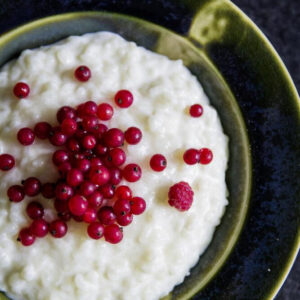 Dairy-Free Almond Milk Rice Pudding
Equipment
3 Bowls or Jars

For storage

1 Fridge and/or Freezer
Ingredients
3

cups

unsweetened almond milk

1/4

cup

maple syrup

2

tsps

vanilla extract

1/8

tsp

sea salt

1/2

cup

arborio rice

1/8

tsp

cinnamon

ground
Instructions
In a large pot combine the almond milk, maple syrup, vanilla and sea salt and stir together. Over medium heat, bring the almond milk mixture to a gentle boil. Stir in the rice and reduce heat to low.

Allow the rice to gently simmer and stir often. Every 3 to 5 minutes is best to prevent sticking and to help the pudding thicken. Continue for 20 to 25 minutes or until the rice is tender, the liquid has absorbed and the pudding has thickened.

Remove from the heat and let the rice pudding cool in the pot for 10 minutes. It will continue to thicken as it cools. Divide the warm pudding evenly between bowls. Sprinkle with cinnamon and enjoy!
Notes
For best storage outcomes: 
Can be frozen in an airtight container for up to one month to keep texture and consistency.

Rice pudding will remain fresh in the refrigerator for 1-2 weeks.
Serving Size
One serving is equal to approximately 1 1/4 cup of pudding.
Make it unique
Feel free to add honey, nut butters, cacao nibs, or IBD friendly fruits such as apples or bananas to sweetened up your dessert.
Nutrition
Serving:
1
serving
Calories:
225
kcal
Carbohydrates:
46
g
Protein:
3
g
Fat:
3
g
Polyunsaturated Fat:
1
g
Monounsaturated Fat:
1
g
Sodium:
263
mg
Potassium:
96
mg
Fiber:
1
g
Sugar:
16
g
Vitamin A:
500
IU
Calcium:
479
mg
Looking for other IBD-friendly dessert recipes? Here are a few to consider: