These marshmallow-free rice krispie treats are easy to make, marshmallow-free, and contain just 4 ingredients!
This recipe puts a healthy twist on a childhood favorite dessert: Rice Krispie Treats. These peanut butter rice krispie treats are made without any marshmallow and are just as tasty! Whether or not you have Crohn's Disease or ulcerative colitis, these are for you.
This recipe is friendly for many dietary restrictions!
Gluten-free
Dairy-free
Soy-free
Egg-free
Nightshade-free
Low FODMAP
Vegan and vegetarian
Kosher
Here's why this is an especially great dessert recipe for people with IBD:
It is low fiber, providing only one gram of dietary fiber per serving. The low fiber content makes this an easily digestible dessert.
There are 5 grams of protein in each serving, which is excellent for a dessert! It provides much more protein than a traditional store-bought Rice Krispie Treat.
Individuals with IBD may be at risk for vitamin and mineral deficiencies. This recipe contributes to the necessary daily intake of some vitamins and minerals.
Nutritional Benefits of These Peanut Butter Rice Krispie Treats
There are only 4 ingredients in these rice krispies, and each one provides a nutrient benefit (or several!). Let's take a closer look at each one:
Coconut Oil
Coconut oil is high in medium-chain triglycerides, which makes this type of oil more readily absorbed and may be easier on the digestive tract than other oils. It is also a quick source of energy since the body can absorb and use it faster than other types of saturated fat. Coconut oil may also help protect against harmful bacteria and is a great source of antioxidants, which provide inflammatory effects.
Maple Syrup
What sets maple syrup apart from other sugars is that it contains several minerals and antioxidants, like calcium, potassium, iron, zinc, and manganese, as well as at least 24 antioxidants. However, please note that it is high in sugar.
All-Natural Peanut Butter
Peanut butter is a good source of protein, as it contributes 5 grams to this recipe per serving. It is high in healthy fats. Half of the fat content in peanut butter is oleic acid, which is a healthy type of monounsaturated fat.
It is also rich in vitamins and minerals, like vitamin E, vitamin B3 (niacin), vitamin B6, folate, magnesium, copper, and manganese. These nutrients can help combat nutrient deficiencies that many IBD warriors experience. Peanut butter also contains antioxidants that have anti-inflammatory properties.
Puffed Rice
Puffed rice is low in fiber and can help thicken stool, making it a helpful starch for people experiencing diarrhea. Puffed rice can be found as a rice cereal in grocery stores.
Are Rice Krispie Treats Gluten Free?
Rice krispies are made from rice, which is naturally gluten free. However, not all brands of rice krispie treat are gluten free due to additives. Below are a couple of gluten-free rice puff options:
Arrowhead Mills Puffed Rice Cereal
Nature's Path Rice Puffs
And of course, this homemade version is naturally gluten-free!
Is There a Substitute for Marshmallows in Rice Crispy Treats?
Yes! Some common substitutes for marshmallow are honey, maple syrup, or nut butters. These substitutes serve the same purpose of holding the rice Krispie treat together but add nutritional value while still tasting great!
Why Substitute Marshmallow in Rice Krispie Treats?
While marshmallows can be a fun treat, they do not provide significant nutritional value. Additionally, marshmallows are highly processed and may contain food additive ingredients that may trigger IBD symptoms for some people (like high fructose corn syrup or sorbitol). Peanut butter offers a variety of nutritional benefits, has a reduced amount of sugar, and may be easier to digest.
What Kind of Peanut Butter Should I Use?
We recommend choosing an all-natural peanut butter to receive the largest nutrition benefit. Below are some great options for all-natural nut butters:
Smucker's Natural Peanut Butter
Crazy Richard's Creamy Peanut Butter
Santa Cruz Organic Creamy Light Roasted Peanut Butter
Once again Unsweetened Creamy Peanut Butter
If you aren't a fan of peanut butter, you may use any nut butter of your choice!
How to Make Peanut Butter Rice Krispies
Start by preparing a loaf pan with coconut oil or by lining it with parchment paper. Combine maple syrup and peanut butter in a medium pot and whisk together over low-medium heat. After allowing the mixture to cool for a few minutes, add puffed rice and gently mix u evenly coated. Transfer to the prepared pan and press down firmly. Freeze for about 20 minutes until mixture is firm. Slice into squares and enjoy!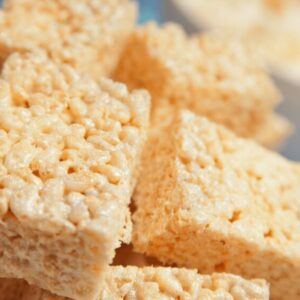 Peanut Butter Rice Krispie Treats
Equipment
1 Medium Pot

1 Whisk

1 Spatula
Ingredients
1

TBSP

Coconut Oil

1/2

Cup

Maple Syrup

1/2

Cup

Peanut Butter

All-Natural

2 1/2

Cups

Rice Puffs Cereal
Instructions
Grease a loaf pan with coconut oil or line with parchment paper (use a larger baking dish if serving size is adjusted higher).

In a medium pot over low-medium heat, whisk together maple syrup and peanut butter until thoroughly combined. Remove from heat and let cool, about 5 minutes.

Add puffed rice and gently mix with a spatula until evenly coated

Transfer to loaf pan and press down firmly. Freeze for 20 minutes or until firm. Slice into bars or squares and enjoy!
Notes
Notes:
No Peanut Butter
Use any nut or seed butter instead.
No Maple Syrup
Storage
Freeze in an airtight container
Nutrition
Serving:
1.5
inch thick slice
Calories:
242
kcal
Carbohydrates:
28
g
Protein:
5
g
Fat:
13
g
Saturated Fat:
4
g
Polyunsaturated Fat:
3
g
Monounsaturated Fat:
6
g
Sodium:
7
mg
Potassium:
183
mg
Fiber:
1
g
Sugar:
18
g
Calcium:
38
mg
Iron:
2
mg
Here are some other IBD-friendly dessert recipes to explore: