Simple and delicious, these healthy Apple Cranberry Muffins are perfect for breakfast on-the-go and sweet enough to enjoy as a dessert.
Packed with nutrients, these oat-based muffins are friendly for many dietary restrictions. They are:
Gluten-Free
Dairy-Free
Soy-Free
Egg-Free
Nightshade-Free
Vegan and Vegetarian
Kosher
Nutritional Benefits at a Glance for IBD:
Unsweetened Almond Milk:
Almond milk can be a great dairy-free alternative for those who are lactose intolerant or following a lactose-free diet.
We used unsweetened almond milk in this recipe, as concentrated amounts of sugar found in sweetened beverages may worsen diarrhea. Here are a few of our favorite brands of unsweetened almond milk (please note that we are not paid or sponsored to mention these brands):
Simply Almond Milk, Unsweetened Original
Elmhurst Milked Almonds, Unsweetened
Malk, Unsweetened Almond Malk
For those who are trying to increase calcium and vitamin B12 intake, using fortified almond milk is an excellent way to do so.
Coconut Sugar:
This natural sweetener has become increasingly popular, especially among people with diabetes, as it is considered to be more nutritious and lower on the glycemic index than cane sugar.
Coconut sugar contains trace amounts of iron, zinc, calcium, and potassium, unlike its counterpart, table sugar. However, it is important to note that these minerals are found in such small amounts and do not contribute to a significant health benefit.
Oat Flour :
Oat flour is a nutritious whole grain flour that can be store bought or easily made at home. With a nutty flavor and a tender crumb, oat flour is the perfect gluten-free alternative for muffins.
Oat flour is a great choice for IBD warriors as it contains anti-inflammatory antioxidants and is packed with gut-friendly soluble fiber. Additionally, oat flour is loaded with several nutrients including zinc, calcium, magnesium, iron, thiamin, and phosphorus.
Finally, these muffins contain 4 grams of protein per serving, which primarily comes from the oat flour in this recipe. This makes oat flour a great choice for those trying to increase protein intake, which is particularly important for those experiencing high levels of inflammation and/or taking corticosteroids.
Ground Flax Seed:
Ground flax seed is a good source of plant-based omega-3's, an anti-inflammatory nutrient that may help to reduce IBD disease activity and increase time in remission.
Ground flax seed is recommended over whole flaxseed because the ground form is easier to digest. Whole flaxseed may pass through the intestine undigested, which means you won't get all of the nutritional benefits! Additionally, ground flax may be easier to tolerate by people with IBD.
Unsweetened Cranberries:
Dried cranberries are a good source of Vitamin C, which acts as an antioxidant, and is important in wound healing. This is particularly important during a Crohns or Colitis flare up. Cranberries are also a good source of Vitamin E, Vitamin K, and manganese.
We used unsweetened cranberries to reduce the overall sugar content of the recipe.
Apples:
Apples contain a variety of vitamins, minerals, and antioxidants. During a flare, the insoluble fiber-rich skin of apples can be harsh on the digestive system. However, once the skin is removed, the remaining soluble fiber called "pectin" gently aids in digestion by firming up loose bowel movements, making apples a great choice for IBD warriors.
What's the Secret to Making a Moist Muffin?
There are three secrets to baking moist muffins:
Don't overmix the batter.
Add a pureed or grated fruit in addition to the oil
Be careful not to overbake.
How to Make Apple Cranberry Muffins: The Simplest, Easiest Method
Preheat the oven and prepare a standard 12-well muffin tin with muffin liners. Mix the dry ingredients together in a large bowl; set aside. Mix the wet ingredients in a medium bowl until well combined. Fold the wet ingredients into the dry. Fold in any mix-ins (in this case, grated apple and cranberries). Divide the mixture among prepared muffin tin wells and bake!
Can I Make Mini Apple Cranberry Muffins?
Yes, this recipe will make about 24 mini muffins. Bake at 350 degrees Fahrenheit for 12 minutes.
How to Store Muffins:
Allow muffins to cool completely before storing them in an airtight container. Store at room temperature for 3-4 days or in the refrigerator for up to one week.
Can You Freeze Muffins?
These Apple Cranberry Muffins are perfect to freeze for later. Just place them in an airtight container or a gallon-size plastic bag. Remove as much air as possible and freeze for up to 3 months.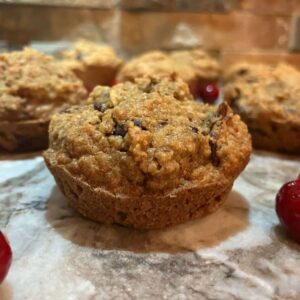 Healthy Apple Cranberry Muffins
Simple and delicious, these healthy Apple Cranberry Muffins are perfect for breakfast on-the-go and sweet enough to enjoy as a dessert.
Equipment
1 Mixing Spoon

1 Muffin Tray

Muffin Tray Liners
Ingredients
2

tbsp

Ground Flax Seed

1/4

cup

Water

2

cups

Oat Flour

1/3

cup

Coconut Sugar

1

tsp

Baking Soda

1/2

tsp

Sea Salt

1

tsp

Cinnamon

2/3

cup

Unsweetened almond milk

2

Apples

small, peeled, grated

1/4

cup

Coconut Oil

melted

3/4

cup

Dried Unsweetened Cranberries
Instructions
Preheat the oven to 350ºF (177ºC) and line a muffin tray with liners or use a silicone muffin tray.

In a small bowl, mix the ground flax with water and set aside.

In a large mixing bowl, add the oat flour, coconut sugar, baking soda, sea salt and cinnamon. Whisk well. Then add the ground flax/water mix, almond milk, grated apple and melted coconut oil. Mix well to combine using a spoon or spatula. Gently fold in the dried cranberries.

Divide the batter into the prepared muffin tray. Bake for 22 to 24 minutes.

Remove the muffins from the oven and let them cool before placing them on a cooling rack for 15 minutes. Serve and enjoy!
Notes
Serving Size:
One serving is equal to one small muffin. 
Density:
These muffins are quite dense due to the oat flour. They do not rise very much.  
Nut Free:
Make this recipe nut-free by using coconut, hemp, or rice milk in place of almond milk.
Optional toppings:
Top these muffins with your favorite nut butter for added protein.  
No Coconut Oil:
Try this recipe with butter or ghee instead. 
No Ground Flax Seed:
Flax "eggs" are prepared by mixing ground flaxseed with water. They have become a  popular egg substitute among vegan and others with egg allergies or sensitivities.  However, this recipe can also be prepared with two large eggs in place of the flax "egg"  if eggs are tolerated.  
Nutrition
Serving:
1
muffin
Calories:
181
kcal
Carbohydrates:
27
g
Protein:
4
g
Fat:
7
g
Saturated Fat:
4
g
Sodium:
212
mg
Potassium:
35
mg
Fiber:
4
g
Sugar:
12
g
Vitamin A:
43
IU
Calcium:
40
mg