My husband has Crohn's disease.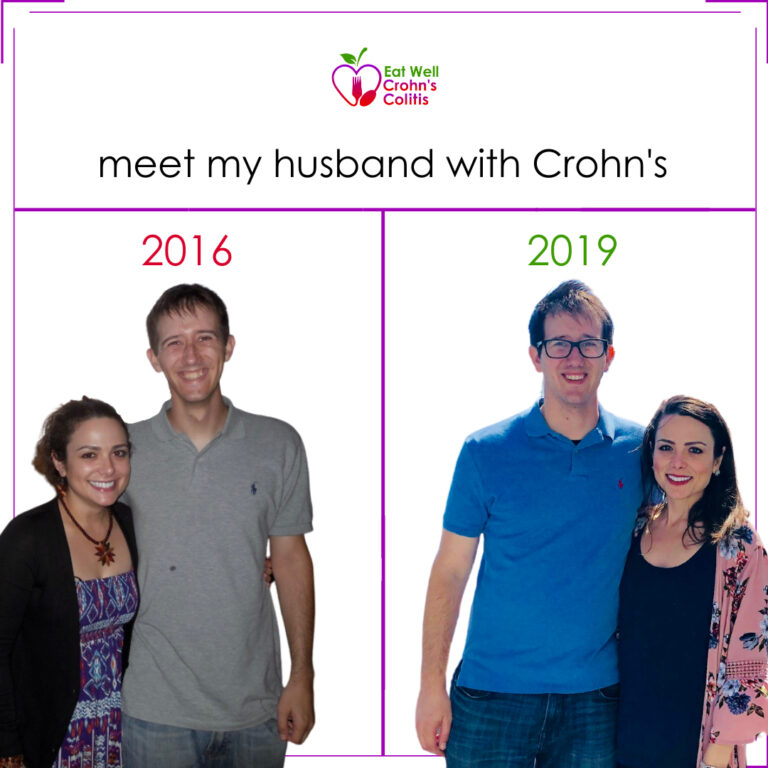 I want you to know: I don't just counsel people with inflammatory bowel diseases. I live with someone who has one.
My husband was diagnosed with Crohn's disease at age 17. He's 6 feet and weighed 127 pounds at his lowest due to symptoms of the disease. He literally became afraid to eat because he associated all foods with pain, diarrhea, and discomfort. He's also struggled with complications of the disease like iron and B12 deficiencies.
Upon working together, we learned that he's lactose intolerant, but also has sensitivities to artificial sugars, red meat, caffeine, and alcohol. By focusing more on foods that made him feel good, eating the macros and micronutrients to give him energy, and learning which foods actually did cause pain, discomfort, and digestive issues, we lowered the pain after eating, improved his digestive issues, and slowly but surely removed the fear and anxiety from eating!
Since we've been together, I'm proud to report my husband has gained a healthy amount of weight to feel better and have enough energy to make it through the day.
My mom had an ostomy bag and became malnourished.
My interest in nutrition grew when my mom developed 3 perforations in her colon after taking pain medications and steroids. From complications of the disease, she needed two feet of her intestines removed (and a temporary ileostomy bag), lost 55 pounds, and needed IV nutrition just to stay alive. I realized how powerful food and nutrition can help manage symptoms and help the gut heal.
The contrast of these very distinct diseases has allowed me to understand, both professionally and personally, that nutrition looks very different for each person and gut disease.
I obtained my master's degree in nutrition.
Understanding the link between nutrition and gut disease prompted me to obtain my master's degree in Nutritional Sciences at San Diego State University while concurrently enrolled in the Didactic Program of Dietetics (DPD). Those are a lot of fancy words, but basically it means that I'm a food expert.
I earned my registered dietitian nutritionist (RDN) credential.
I completed over 1000 supervised practice hours in clinical, food service management, school nutrition education, and community areas of nutritional science. To obtain my RDN credential, I passed the national board exam. This credential can assure you that I have the necessary knowledge and experience to help you on your nutritional journey. To maintain my credential, I will need to complete continuing professional education hours so that I am offering you the most current nutrition therapy based on validated peer-reviewed research.
I can stay on top of research so you don't have to.
For three years during grad school, I was a research assistant at a university laboratory specializing in cutting edge nutritional research (view publication). Seeing and living the research process from start to finish allows me to critically analyze new, peer-reviewed, scientific research publications as the field of nutrition grows. This means that I can stay on top of the all the latest info so you don't have to.
My time volunteering in my local hospital's Clinical Nutrition department, combined with my internships in several school districts around San Diego mean that I have the connections and knowledge to help everyone from ages 9 to 92 eat well and live well.
I can teach you how to make smart food choices for your IBD.
I'm also something of a food label expert. During grad school, I worked for Healthy Dining, a company that provides nutrition analysis for restaurants. You know those depressing statistics when you head to restaurants that get printed on the menu? Yeah, I wrote many of those. I can help teach YOU how to read a nutrition label to make smart food choices for your specific autoimmune disease.
I will work hard to provide you with accurate, research-based nutritional recommendations.
Listen. I love to cook, and I love to use fresh, healthy ingredients to make food that tastes good and also helps people feel better. I practice what I preach, and I will work really hard to provide you with the most accurate, research-based nutritional recommendations that not only help you manage your symptoms, but also fit your lifestyle.