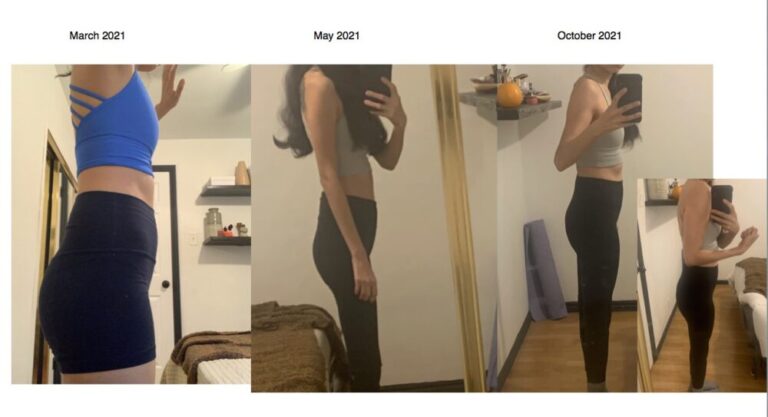 "As someone who has never been to a dietitian/nutritionist I was hesitant about how much help it would actually do me. I always thought I knew enough about nutrition from my training knowledge and overall "healthy" lifestyle.
I decided to move forward because I know from training that things take time and progress is often slow. I know that many people give up too soon and get discouraged when they don't see immediate results. I decided to trust Danielle, and not worry about how long things would take but instead be present and aware about changes. 
Before working together I was completely lost as I had just been diagnosed with UC and was dealing with too many things at once. Some doctors would recommend the low fodmap diet, others low fiber. I visited a holistic healer who told me I was gluten intolerant and allergic to oatmeal. My Gastroenterologist referred me to a dietitian which after one phone call told me to not eat eggs, chicken, meat, oats and dairy. I felt overwhelmed and underwhelmed at the same time. I was completely discouraged and didn't think anyone was interested in truly helping me find the right foods. The first thing I recall from our initial consultation was that Danielle said "there is no reason to eliminate foods that didn't bother you before". After working together, Danielle was able to help me find a large variety of foods that not only I could tolerate, but also enjoy and feel satisfied with. It never felt like a "diet" or like I had to give up what I loved. 
I've noticed that I am now even more open to trying new foods and I have a bigger variety than I used to. I also used to stay away from eating many fruits that I craved because of the false idea that too much fruit was bad due to the sugar. One of the most obvious changes I noticed early on was the energy I felt by using my food as my fuel. Eating more calories and balancing both my macro and micro nutrients allowed me to be able to exercise again without feeling exhausted. 
After not being able to eat much due to lack of appetite or fear of food, I had lost 20 pounds and felt uncomfortable in my body. Going from being fit and active to not being able to move was difficult. But now 3 months later, I have gained 15 pounds in a healthy way and I can confidently say that I know how I should eat now and how to listen to my body. 
Danielle is very thorough and takes the time to explain the science behind her recommendations. During our sessions, she listens and is willing to adjust to accommodate her clients preferences while still making sure progress is being made. She really works to modify meal plans as much as possible until finding what works. She is very detail oriented and it is obvious how much she cares about helping people. 
I absolutely would recommend Danielle to anyone who suffers from IBD and needs guidance when it comes to finding a diet that will contribute to reaching remission."  – MZ
"Before working with Danielle, I had no idea where to begin with my diet. I needed help knowing what foods were tolerable by most individuals with IBD, specifically Ulcerative Colitis, and what I could do to stop losing so much weight. My iron levels were extremely low, and my energy levels were low. This situation made me feel very frustrated. I did not want to deal with symptoms and the pain, so I unfortunately would avoid eating most days. I felt scared that the consequences would be horrible with anything I ate.
Before starting, my financial situation made me hesitate. I decided to move forward and work with Danielle because Danielle's web page and the information displayed within made me feel comfortable and I knew it would be worth it. She seemed very welcoming even before meeting her. Aside from this, I was physically feeling horribly and I was not eating at all, so I knew it was time to do something about it.
I have more energy! Before, I would feel so tired walking from my apartment to the parking lot a few feet away and as a result, I would prefer to stay indoors 24/7. Now, I bike to work/school and I can now handle walks around the apartment complex. After working with Danielle, I was able to decrease the number of bathroom trips from about 8 per day to 3-4. In addition, my wellbeing has changed for the better because I now have meal plans that work for me, I have learned to set aside meal prepping time, and my stress around meals has decreased significantly given that I have more options to choose from.
My fear around eating has decreased! I now feel more confident with food choices, and we even worked together to discover what I can eat from local restaurants (I had lost hope, I thought I'd never be able to eat out again prior to working together). Additionally, I am now able to keep myself accountable with something as simple as drinking water.
Danielle is very patient and does what is needed to fully understand the client's situation. What I enjoyed the most is that Danielle is well informed, she knows the science, and she explains it beautifully so that I can understand it as well. Not only did she help me learn so much about UC (since I was recently diagnosed) and how to manage my symptoms, she helped me stay close to my cultural roots with dishes I can make at home because she understood how much it meant to me.
I would definitely recommend Danielle's services to others! She is open to discussing all concerns, she is supportive, her communication is exceptional, and overall made me feel empowered to try new things and ask questions no matter how silly they seemed to me."  – RH
"There was no question that I needed help. I was a physical wreck and my GI recommended I a dietitian but didn't give me the tools to find one other than this website link. When I found Danielle and saw what she offered it was a no brainer… I had to [work with Danielle].
To paint a picture, I was unable to eat at all without pain. My famous diet reduced to eating mashed potatoes and occasional chocolate milkshakes — that's all I could kind of get into me. I was dizzy and could not function. I was probably the sickest I've been since my diagnosis, maybe even worse. I could not have been worse health wise then. Aside from the physicality of that, I've been used to being the healthiest sick person anyone had ever seen and so to be that depleted…I just felt hopeless, lost, just didn't see any way out.
I can't even begin to describe how much better I am. The biggest discovery for me is I used to always lose two to three hours of my day midday with a crash, and since working with Danielle that rarely happens. It still might happen from time to time, but I feel like I don't have to plan my entire day thinking "OK I'm gonna be out of it between 2:00 and 5:00 PM, so I can't make any commitments during that three-hour period". I feel sharper. I feel I'm eating in a more healthful way. I mean, it's just like night to day because it was really dark and really hard and now it's really bright and there are lots of possibilities.
Danielle signs off 'most respectfully' on most of her emails and notes, and I think I was thinking that word [respectfully] is so part of my work with Danielle because she respected where I was and met me where I was. She didn't talk down to me when I said I'd had these other dietary nutrition experiences. She didn't badmouth anything…she didn't even badmouth chocolate milkshakes. She said okay, here's where we are, let's go. I knew she was always there for me.
I'm tearing up because I remember going into the grocery store for the first time since I was sick with my list, with recommendations to try foods with a certain amount of fiber and fat, and I was so overwhelmed. But it was like Danielle was right there with me, walking the store. I have no idea what time it was on the West Coast because I'm on the East Coast. But I was showing her pictures of products and asking if it was okay. Because of that experience, the next time I went into Whole Foods it was easy, and learning how to look at the foods I need was easy. I just knew every step of this health journey wherever I was, whatever I needed, Danielle was right there in real time, always.
I wish I had a million zillion dollars so I could take out an ad at the Super bowl and say, "if you need anything in your home, go to Danielle". I just feel the work is remarkable. I cannot believe just how much better I am and how I feel. The analogy we used was arrows in my quiver…I had little broken arrows in my quiver and now I have like this huge peacock amount of arrows in my quiver. I know that other people can benefit from that same kind of knowledge. Danielle was there with me every step of the way, but she was also fully committed to me being able to independently make healthy choices in my life post-experience." – BG
"I reached a point of desperation that forced me to commit to outside help. I had manifested so much anxiety around food and nutrition that my obsession took over almost every aspect of my life. I needed to "let go" and let someone else (a professional) manage that aspect of my life. I chose Danielle specifically because of her kind demeanor, her obvious knowledge, her openness to adjust to my specific preferences (primarily plant based) and the overall sense I gathered from her that she truly cared about my health and wellbeing.
Prior to our work together my health (physical, spiritual, and mental) was in a pretty low and chaotic place. Physically I was in constant pain and discomfort, I had lost enough weight that I was dissatisfied with the way I looked in the mirror or fit into clothes. Despite working out 4-5 days a week, I struggled putting muscle or weight on. Mentally I was exhausted from constantly running through a mental matrix of what I could or could not eat to cause me pain, help me gain weight, fix my hair/nails. I reached a point of stress, anxiety, and despair that led me to quit my job in pursuit of some time to "work on myself" and "heal".
While I am on medication for my disease, I truly attribute the bulk of my recovery to my work with Danielle. Learning about different "trigger" foods to avoid, additives that can further disrupt my gut bacteria, having pre-planned meal plans that are developed specifically to meet both my recovery needs but also help me gain weight and increase my hair and nail health all have given me such peace of mind that I feel night and day different from before I started the program. Additionally, I found it immensely beneficial to have the ability to text Danielle day/night(ish) anytime I had a question or concern. I enjoyed having her in my "back pocket" while grocery shopping to help me navigate different ingredients. I learned about some specific foods that contained (harmful to IBD folks) additives that were previously a BIG staple in my diet. All of this knowledge, and the fact that during periods of our time together I actually experienced relief to an extent I had honestly forgotten was possible has given me the confidence and hope I need to know that I can continue a normal, even GREAT life despite my disease. That even with occasional flare ups, I can get back on "track". I can (hopefully) reach remission, come off medication, and STAY in remission.
My weight has definitely increased (satisfactorily) as well as my muscle retention. My anxiety in general has significantly subsided and especially as it relates to my food choices. I no longer "fear" eating. I know there are things that will make me feel good, and things that will make me feel not so good and I know I have the choice between them.
The meal plans are amazing. Even if I don't follow them to the "T" each week, I know I always have something to fall back on, especially during times of flare ups. I also really enjoyed the fact that she is incredibly responsive and accessible at almost any time (I tried not to bother her too much at night or on weekends – although she was always willing to help!) Her in-depth industry knowledge, organization, timeliness, and truly kind spirit are what make her wonderful to work with and why I find myself referring her services to so many people I know also struggling with some sort of health issue." – JP
JP reached out 4 months after our work together ended: "I just wanted to let you know that based on recent lab results, I received news today that I've reached remission for my Crohn's/colitis!! Thank you so much for all your help!"
"I've had some experience working with nutritionists in the past and didn't really have the best interactions which had me hesitant at first. So my results when working with other nutritionists were always lackluster. I was really looking forward to working with Danielle, as she had a positive attitude and really seemed to listen to my concerns with understanding and compassion.
Danielle had a fresh perspective on nutritional health and also has a comprehensive knowledge of a number of autoimmune conditions with particular dietary concerns. These elements, her excellent work ethic, and overwhelming kindness really drove home for me a desire to work with her. I had a number of health concerns due to a couple of overlapping medical conditions…these conditions left me with low energy and feeling unable to move past a stalling point in my weight loss journal and overall journey to a healthier lifestyle. I really needed someone with more knowledge and tools to provide me with some guidance and some solutions as a layperson that I couldn't find on my own. Again, it just left me feeling stuck/trapped without an ally.
Since working with Danielle, I've noticed a huge shift in my perspective as well as my accountability to myself. I've made strides as far as weight loss goals, and overall better health choices that have become a part of my lifestyle. This has helped my mood and sense of self reliance that had been several impacted by my health concerns. I've also become much more confident in my portion control and shifted to a dietary plan (anti-inflammatory, low-carb) that really works for my health.
Danielle excels at making you comfortable and understanding the perspective of someone who is struggling in their health journey due to illness and just life in general. She is a true pillar of support with all the knowledge and compassion someone needs when they have made the decision to change their life and health for the better. She is there for you when you have questions or just need to talk through your concerns. It's comforting and empowering. I would unequivocally recommend Danielle's services, especially if you decided to make that conscious effort to take control of or change your health, whatever the reason."  – SM
"After my second surgery I couldn't eat much of anything and was making mistakes choosing what to eat, how much to eat and how often to eat. My health of body and mind were definitely not in a good place. I needed help right away, as each day that passed I was becoming more and more discouraged and upset. I felt powerless and depressed about this situation and was worried about being able to take care of myself, my dogs and being able to function normal at work.
My experience with Danielle was awesome! Besides being so knowledgeable in nutrition, she is an excellent trouble shooter. She goes beyond the meeting day, she researches before, during and after the session is amazing! An excellent bedside manner and super compassionate. A fantastic listener as well!!!
I have been making better choices, I am not always successful but I keep trying and keep a good journal so I can see where I was successful and where I can make improvements. I feel more confident about my food choices, my weight feels good and I'm pleased to have dropped weight, though I wish I didn't have to lose it this way.
Danielle is kind and compassionate, and understands what goes on with diseases of the colon and digestion issues. She knows first hand since she is living with family members that deal with these issues which means she is "in the trenches" to say the least. Without a doubt I would recommend Danielle to others." – DG
"Before I started working with Danielle I didn't feel good because my output from my ostomy was very, very fluid and I didn't understand why. I was spending a lot of time every day taking care of the ostomy changing and fixing things — it was like over consuming my life and I am a person who likes to be in charge of my life and so I wanted to try to figure things out. I read forums online and I knew [my issues] had to do with food, but I didn't know what to do exactly. It's not that I'm didn't know what good nutrition is, but I certainly didn't know what good nutrition was for a post ostomy or a person with an ostomy.
I was at a place with my health, having a colostomy, that I just needed to understand and be able to better control what was going on with me. I did not get very much help from my surgery practice, sort of minimal, and the thing that was said to me about eating was, "well just eat like you did before", which caused all kinds of issues that I didn't know how to deal with. For a while there, I was just almost terrified of what I ate – if I ate something, I had no idea how that was going to affect me. I also was losing weight for the months before the surgery too, just because I just had no appetite which is really unusual for me.
I moved forward [with the nutrition coaching package] mainly because I wanted to be in better control of what was going on and understand what was going on. I really wouldn't say I had much hesitation to purchase the nutrition package. I stopped to think about the cost because it's an investment, but I was in such a place that I thought that whatever it was would be helpful to me because I was looking for solutions at that point.
Since working with Danielle, I've noticed that my health overall has much improved. I feel like as much as I possibly can, I'm back to almost all my normal activities and I feel like I can be in charge and control what happens to me. So I would say overall my well-being is a lot better. I feel confident. I'm trying new things all the time. Sometimes they work and sometimes they don't, but I feel OK with trying something!
What I enjoyed most working with Danielle was the fact that she's so supportive, and I really needed that support…not just in the nutrition, but in all aspects of the ostomy. Danielle understands. She's empathetic, so I feel like that's part of it also. She is extremely knowledgeable and taught me how to figure out some things that I didn't have any clue how to figure out like how to use technology to record stuff that I needed to keep track of. Danielle is an excellent listener and responds well to whatever is going on with you at the time. Her follow through is also excellent, always having suggestions or ideas and sending information that is helpful.
I definitely would recommend working with Danielle — it has been well worth the cost. I have learned a lot and I feel like I'm pretty good here doing this on my own now. I mean I know I'm not perfect in there might be times when I fall down but I feel like Danielle is what makes all the difference." – LM
"My son [13 years old with Crohn's disease] was having a lot of issues with pain and difficulty with weight gain. It was frustrating and I was worried for him. I wanted a nutritionist's guidance while trying the CDED Diet, and Danielle seemed experienced and knowledgeable about IBD. When we met with her, she was very friendly and approachable, especially for my son, which I really appreciated.
In addition to reduced symptoms, my son has seen a decrease in his inflammation from when we started [calprotectin was over 3,000 and went down below 100], and we've learned a lot about what food choices work well for him. My son has had a lot less pain and has started to gain weight [up 7 pounds].
My favorite thing about working with Danielle was how she interacted with my son and made him feel. He describes her as "very nice and really helpful." He's made a lot of hard changes and she's helped make the process a lot less intimidating. She always included him and made sure we took his thoughts into account as we planned. My son says his favorite thing about this process has been Danielle's recipes. He's always been very picky, and Danielle has a lot of fun and creative ideas. He's taken an interest in learning to cook for himself, and has learned a lot about making good food choices and paying attention to his symptoms.
I would encourage anyone considering Danielle's services to go for it, but more importantly, my son would too." – SA
"I felt lost, I was not being given answers, I didn't know quite what to do. I had everyone telling me to watch what I ate but had no guidance. The nutritionists at the hospital were not helpful, they were uneducated about my condition and honestly I felt unhealthy because I was so frustrated my response was to not eat. My relationship with food felt unhealthy in more than one way and I felt somewhat abandoned and uncared for by the professionals that should be there helping and guiding me.
Danielle listens, and I could not ask for more than that. Through this whole experience every time something has gone terribly wrong, it is because no one is listening to me. It has been quite frustrating and Danielle has been a great source of knowledge, and support. She has what a lot of professionals in the medical industry lack, an ability to be compassionate and understanding and that makes the experience working with her enjoyable amidst an unfortunate circumstance.
I began healing faster with Danielle's help, my Doctor's saw a significant change and I felt more positive and stronger in mind and spirit by feeling educated about what was and is going on in my body. My weight has been more stable not so erratic and that has allowed me to heal in my opinion faster and has allowed my body to catch up and heal from the rapid weight loss. I have also managed to gain more energy and strength which I lost a lot of.
Danielle's kindness and compassion through this process honestly has been heartfelt. My days feel a lot brighter now. I appreciate Danielle's dedication to learning and continuously educating herself in ways to help her clients. Danielle's greatest attributes are her sense of urgency, ability to care, drive to help people like myself, and last but not least her want to always go the extra mile and care about our mental state as well as our biological state." – KS
"I had just been diagnosed with ulcerative colitis. It was the most severe kind. My health is severe because I was super ill and losing my appetite. I needed help navigating what I should be eating and what I should be avoiding since I've never had any issues with food in the past. I was stuck because I really just didn't know what to do. There were lots of different recommendations online which were confusing me. I just needed good guidance from someone who understood the situation.
I decided to move forward and work with Danielle because of her experience with my condition and the fact she offers a 30 minute session to allow the opportunity for potential clients to learn more about how she approaches her work.
I finally started to gain some weight especially now that I'm on the right medication and have a diet plan. Danielle was instrumental in helping me get on a plan and determine which foods I should be eating. She was able to recommend how often to eat and what would help me gain weight which I really needed to do. We carefully monitored when I was experiencing issues with my disease based off of what I have been eating and it didn't seem to lineup. It was an easy to avoid certain foods to help get my disease state in line. My weight has increased and I feel more confident about what I should be eating and recipes that I can follow.
Danielle puts you at ease and it makes you feel like you're talking to a friend. I had some rough days and she was super supportive of my emotions. She's also extremely supportive of my own decisions on what diet I thought may work for me and was able to make recommendations based on what she knows from working with patients like me." – GJ
"I wanted to understand what value I would get versus just googling and doing the research myself. I was trying to learn as much as possible about Crohn's. I don't think that I felt stuck, but wanted to accelerate. The biggest deciding factor is that Danielle already did the research and will save me time + will bring experience from others to share. Later I also realized that Danielle has a structured program to finding problematic foods and thinking about steps for achieving my goals.
During Danielle's and my first discussion, she gave me information that I didn't already know. That was a sign that she would teach me something and it was actionable, not just theory.
Danielle was aware of the research, has experience, and was able to teach me something and also give me actionable steps to achieve my goals. I think her best skills are coming up with a tailored /personalized plan for my goals.
After working with Danielle, I've become more deliberate when eating and more aware of foods that may cause symptoms. I've gained 4 pounds and am hanging onto the weight gained. I'm regularly incorporating more anti-inflammatory foods and fitting in more calories throughout the day. And I'm feeling 50% better in just 6 weeks!"  – BK
"I was stuck on the SCD diet. I felt lousy, and it was so hard to try new foods and to go to restaurants, etc.
[My wife and I] really thought that Danielle's experience with IBD patients was invaluable. That was our major reason for moving forward with her.
[Since working with Danielle], my weight improved/is moving in the right direction. I tried a lot of new foods, many of which are regular now. I learned how to best introduce new foods. The variety of food that I eat has improved dramatically. Overall, I felt quite well over the past 3 months with more energy as compared to before.
The sessions were very in-depth and personalized. The materials Danielle provided after each session were fantastic and thorough. Her response to questions/emails were always quick and helpful." – PS
"Before starting with Danielle, I would have some flares with my ulcerative colitis. I was stuck because no one had information on this. I felt helpless and fearful about going out.
I decided to work with Danielle because she knew things about Crohn's and ulcerative colitis which a lot of Nutritionists don't have a clue.
Now I'm feeling better. I'm leaving the house more and am feeling confident about being away from the bathrooms. And I like most of the food changes that were made.
Danielle's talents are numerous, but to name a few: knowledge, understanding personality, and the way she would work to find different products from all different places. Danielle was also very organized and prompt.
I would definitely suggest Danielle to others. I would have no hesitation recommending her. I live in Pennsylvania and Danielle lives in California and there were no problems communicating long distance at all. I looked for someone like Danielle for months. There was no one in the Philadelphia area with her qualifications." – DS
"I was having diarrhea multiple times a day and couldn't figure out how to get better. I was stuck in the nutrition department. I knew I needed someone to help me figure out why I was so sick. I was desperate for help.
Danielle seemed to know a TON and I was hoping she could help. I now know what ingredients to avoid and what I can replace them with. I also know which meds need to be taken with food. No more diarrhea, more energy!
Danielle's detective skills are amazing! So knowledgeable and so kind. I loved working with her!" – SW
"I was afraid to eat. I needed help to overcome my food anxiety. Danielle impressed me with her scientific knowledge, so I had no hesitations about purchasing the nutrition coaching package.
I enjoyed working with Danielle because she is very knowledgeable, caring, and friendly. I am more confident about food choices. I eat a more diverse food. I feel better physically and mentally." – MB
"I decided to move forward and work with Danielle because I instantly knew what she was talking about, and she made me feel so comfortable! My health wasn't the worst but I was newly diagnosed with Crohn's. It was really helpful to have someone help me to navigate that when it came to my diet. I have noticed a new confidence I have when it comes to trying to eat things that I might be fearful of causing pain. I now try different things without worrying so much! I love that I now have so many meal plans to refer back to!
What I enjoyed most about my experience with Danielle was how she truly cared how I was doing in all aspects of my life, not just my diet. She really has such a kind heart she made me feel like I could be vulnerable with discussing my Crohn's disease. I would absolutely recommend Danielle's services. She was amazing and I would go to her again in the future!" – KC
"I decided to move forward with Danielle because her husband has Crohn's and her mom had some digestive issues, so I figured Danielle had some personal experience with this specific condition in addition to formal training. Also, the initial meeting went well, and Danielle was on the CCFA website.
Working with Danielle, I learned more about food, storage, food safety, protein, smaller meals more frequently, etc. I have some more tools. I have more knowledge of which foods make me feel better or worse or neutral after trying so many different ones.
I enjoyed trying new foods I haven't tried before. Danielle is very quick at doing research. Either she knows something right away or she can look it up very quickly and provide a legitimate site, so I am getting good information rather than misinformation. She is very friendly and wants to help people feel better." -DE
"Before working with Danielle, I didn't really have a plan with food. I had symptoms, flare ups, and I just didn't know what I was doing wrong. I work overnight as a truck driver, so I drive a lot. Before, I would just fill up a plate of food as much as I could and then eat it. I was worried about the symptoms and certain trigger foods that I have found to be the issue with my UC.
After getting Danielle's plan and incorporating everything she gave me and the coaching that she did — it was like a complete 180. The symptoms went away, the goals that I wanted to achieve I did achieve through her plan, and it was a great process. Danielle opened a bigger outlook on food, like what I can eat and how much I should be eating per meal. I think the most specific change that I saw was the portion control — that was a big issue for me. I just didn't know how much to eat and what to eat, so that changed dramatically.
Danielle really gives you the space to speak and she'll listen before adding in her expertise on it. When you're having the session with her, she'll hear you out and she'll let you make the choice. It's really up to you if you if you want to make a change — the ball's in your court. I think the best thing is she really listens to you and really hears you out and what you're going through, and that's something that I needed specifically with food. She also really gives a lot of resources — she'll give you more than you could ever you probably use (in the best possible way).
I would absolutely recommend Danielle's services to others. Even if you don't suffer with UC or Crohn's or anything like that, Danielle's just a really easy person to talk to and very sweet and kind and definitely goes way above and beyond." – IA
"When I got the diagnosis, I had a reason to change beyond feeling miserable with my weight and dietary short comings. My doctor recommended Danielle as a Nutritionist that could help me alter my eating and drinking as I had been diagnosed with acid reflux, esophagus disease.
Danielle's professional manner in understanding my preference in eating and understanding of my medical needs was amazing. She understood and included in her meal plan all my desires and matched it with my nutritional needs. The 3-month plan helped me meet all my needs. Danielle's questioning, listening and follow up feedback was excellent. She understood my goals and asked me about each one on our conference calls. Her knowledge of nutritional needs and recommendations were excellent. She also is very kind and helpful.
I feel healthy, weigh 18 pounds less and wear my beautiful clothes. But Danielle's plan was easy to follow, more than other diets I have tried in the past. I think her listening to my taste and cooking time of 30 minutes really helped. Also, I enjoyed our follow up calls to evaluate my progress and alter the plan as necessary.
I absolutely would recommend Danielle and hope she could help as many people as possible." – JW
"I was in a flare and struggling for dietary strategies to help me manage. As a result of working with Danielle, I have a much better idea and strategy for eating now, and really a roadmap for a "diet" which should help my UC but also fit my lifestyle.
What I enjoyed most about the experience of working with Danielle is that she really cares! Her empathy is what is lacking with my gastro (who simply doesn't have the time). She so clearly wants me to do well." – DL
"I'm so in awe of all of the knowledge Danielle has to share. Working with her was super helpful!!!
So far I've lost 8 pounds, which I'm happy about. I feel like my clothes are definitely looser and my family notices a difference too. 
I have been realizing how little protein I was actually eating and thought I was getting more than I really was.
I'm going to the bathroom more consistently and am finally feeling better."  – Client
"So I just went to the doctors for a my 3 month follow up. When I first went in October, my A1c score was 11.8 leading to my diabetes diagnoses. After 3 months, if I didn't get below 10, I was going to have to start insulin. Today, my A1c score was 5.7. Completely out of the diabetic range and in the healthy range. Still work to do to lower it but the doctor said she had never seen a turn around like this before. They said they won't use my name but they want to tell my story to everyone.
People often use the term "life changing" loosely. In my case, this was literally life changing. I will continue the medicine for now and have another follow up in May to check cholesterol and my blood sugar progress. Thank you again, Danielle. Forever grateful to you." – Chris P
"Danielle is so knowledgable and empathetic. Everything we've discussed and worked through has been so helpful!"  – RC
"I have absolutely loved working with Danielle on my nutrition journey! Before working with Danielle, I didn't know what talking to a nutritionist would entail and didn't think I needed to do it — it was low on my priority list. When Covid-19 hit the US and had us all staying at home, I realized that I needed to take that time to work on me, my health, and to make taking care of my body a priority!
I consider myself extremely lucky as I do not have any autoimmune complications, however, through the first years of marriage, I had slipped into some bad eating habits and have gained weight since our wedding day. Danielle helped me realize those bad habits right off the bat and helped me get on track to having healthy and safe habits to help me achieve my goals. She never judged me for my food choices or habits, nor did she ever make me feel bad for admitting to loving a few local fast food places…Danielle was very understanding, realistic, and welcomed me in with open arms! She was always willing to answer my questions, no matter how simple or complex, and she always answered in ways that were easy for me to understand!
Danielle is a fantastic nutritionist and thanks to her, I'm feeling better than ever and am excited to see where her recommendations and help take me and body in the future!"  – Katy S
"Life is good. I've already lost 5 pounds since I've started working with Danielle. I'm loving the foods and gentle exercise she recommended and have not felt the least bit hungry while doing so. I saw my doctor yesterday and he is happy with my results too. Danielle is a DIAMOND — as good as it gets."  – Marvin M
Eating for Remission Program Testimonials
"I'd like to share some exciting news. After following the guidelines from the modules I've successfully lowered my ESR and Fecal Calprotectin to NORMAL levels (ESR from 42 to 16; Calprotectin from 618 to 60). Thank you so much for helping me to set myself on a path to better health! I'm so excited that I do not have to be placed on more medications. I was so happy that I was in tears because my sed rate has not been this low in YEARS." – CB
"I arrived at the Eating for Remission program in bad shape. I had been flaring due to my Ulcerative Colitis (UC) for almost 2 years and had recently been diagnosed with a C. Diff. infection, to make matters worse. I couldn't get the diarrhea to stop and felt stuck in having to limit my diet because it seemed that nothing was working and I had constant bloating. I started to feel hopeless as time went by and I was not able to stabilize, growing more frustrated by all the sacrifices and medical chores that didn't seem to be paying out. My concern and worry also grew when my specialist started having discussions about having me start a biologic, especially during a pandemic, this was bad news. This had gone on for too long and I knew that drastic times called for drastic measures so I took the plunge to invest in my health and connected with Danielle in hopes to prevent more serious medical outcomes.
I noticed that I had the power to control my body's healing and was actually able to stop my symptoms! This was the most fantastic outcome and I did not expect such quick results. I felt like a huge weight had been lifted off my shoulders when the diarrhea reduced and even came to a stop. I had regained hope and was able to forgo a worse case scenario medically thanks to the nutritional healing benefits to my body. As weeks went by and I made changes to food choices, meals, brands, and adding variety, I noticed my energy levels getting better as well as my outlook. The meal interventions allowed me to gain control over my health and that momentum carried over into other areas of wellness like sleep and exercise to name a few.
I had gone from being in bed rest depleted to now being able to work out at the gym for a couple hours. I felt the happiest and strongest I had ever felt in the past 2 years! I had my life back and that was all thanks to healing through nutrition. Before meeting Danielle, I had a very restricted diet due to concerns about my UC that didn't allow me to pursue a healthy weight. I have more confidence now when looking at labels and making food choices knowing what is harmful to me and what is healing. Eating right helped me not only reduce my UC symptoms but feel better overall to achieve my fitness goals. I lost 15 lbs while gaining muscle definition at the gym, have less stress, sleep better, have more mental sharpness, and feel fantastic overall.
I really enjoyed the level of expertise and useful tools given in the program. The information was presented in a well-organized and clear fashion that made it easy to understand and follow along. Danielle's supportive and empathic nature made it safe to talk about sensitive subjects and made it possible to ask any questions without judgement. The discussions helped teach me how to advocate for myself in my own nutrition so I can go on to continue caring for myself in the best ways possible. I also enjoyed how the group became a platform for emotional support for others going through similar life experiences.
I would absolutely recommend this program, it by far exceeded all expectations! The high professional and educational caliber of Danielle shines through every aspect of this program from the attention to detail in material handed out, thoroughness of presentation content, fun engagement, to exceptional follow-through on answering questions. Danielle makes sure to give you 110% with achieving your health goals and supporting you in every way possible throughout that journey with incredible knowledge and scientific backing as well as a wonderful personality. You will definitely be in good hands working with Danielle and I would highly recommend her." – SE
"Before the Eating for Remission Program, I googled a lot of things, and I had the normal information that you get from the little pamphlets I got from my GI doctor and some information I got from the PCP. But it was not enough, because no matter what I did or how I did things, at least four times a month I would get a flare up. I was living with flare ups and anxiety, wanting to avoid restaurants and going out; and as much as I googled it, I just didn't have enough information and understanding of what to do and why.
I found Danielle through the Crohn's and Colitis Foundation. I read a little bit about Danielle and then we met for an informational session. I believe in research — I work in healthcare so I'm a scientist at heart. I do believe in getting the right data in the right information, so the informational session with Danielle definitely helped ease a lot of my anxiety, as I realized she is no fake and wasn't going to try and sell me any products.

The thing I enjoyed most about working with Danielle was her willingness to go above and beyond to help me get the resources I needed. I had a lot of "aha" moments in the program. Research is really important for me and knowing that Danielle had the studies and the research in the background and the "why" to a lot of the things.
The greatest change since completing the Eating for Remission Program is that I don't remember when my last flare was… so let's start with that! I go to restaurants, and I know what to eat. Danielle taught me how to look at the menus. I've traveled a couple times — my biggest anxiety before meeting Danielle was that I was going to have a family trip where there were going to be a lot of triggers. After working with Danielle and getting all that information, I didn't get sick the whole family trip! I don't feel exhausted at the end of the day because I know what foods I can eat and I've learned my triggers. Now I feel I have more control of my life. I'm not running around scared of where the bathroom is the first time I go somewhere, so it's been great.
I would definitely recommend the Eating for Remission Program to others. One of the biggest things I will say is that Danielle's not about selling you products or selling things. Her program is about giving you all the tools, information, and research you need to get the guidance to be able to live a more normal life. Danielle has a lot of knowledge and a lot of research behind that knowledge. This program changed my life – like I don't even remember when my last flare up was. It's worth the price, the time, and the effort!" – IS
"I didn't actually have any hesitations to purchase this nutrition program. I was very excited to find something targeted towards what I needed. I decided to move forward and join the program, as I hoped that it could help answer the questions I had on what I could eat. I also was excited about the group aspect and to meet some people that also have IBD.
My health before joining the program was not that great. I had just been diagnosed with Crohn's about 3 weeks before starting the program and had just gotten discharged from the hospital after having severe symptoms and getting to the point where I couldn't eat any food for a week. I was very stuck at that point, as my doctor didn't give me much instruction on food and when I joined the program I was only eating a few foods that I had deemed safe. I was extremely fearful of food from how bad the symptoms had been and was worried I would eat the wrong food and cause issues. I tried to google what foods to eat and was just very confused due to finding different types of recommendations and I didn't know what to go with. I felt extremely overwhelmed and knew I needed professional help to figure out my nutrition.
I have increased the types of foods I eat, and it's really helped me to enjoy food again. Knowing what foods work for me, also helps me feel more in control of my body and less fearful about going outside of the house (aka away from a near bathroom). In general, I feel a lot better about my food and nutrition.
I feel a lot more confident in my food choices and I'm no longer fearful about reintroducing foods. I also feel more confident about taking a proactive step in my health with working on my nutrition as well as making sure I'm getting my iron, omega 3s and vitamins in. It also really helped to be able to get Danielle's assistance in the individual sessions with finding how many calories I should be eating in a day to slowly lose weight and it makes me more confident, knowing that I'm working towards my goals.
I greatly enjoyed how interactive Danielle made it. It was so great to hear Danielle tell us about her husband's experience and to hear the other ladies describe their experience. It really helped to hear experiences from others. Checking in at the end of the sessions was also really nice to see how we are doing and get to hear from everyone. I also appreciated how Danielle would always answer our questions throughout the session.
I would absolutely recommend this nutrition program to someone else. It was a wonderful experience and extremely informative! It really answered so many questions I had and really helped me being so newly diagnosed to reintroduce foods and figure out a food plan that works for me." – AF
"I was newly diagnosed and had not been able to see my GI, so I was very unsure of where to start and what I was actually diagnosed with. I didn't know what it meant for my body or where I needed to alter my choices going forward to be successful and feeling good. I felt very lost, confused and helpless.
I found the information very enjoyable to learn about. It was clear and easy to understand, but also helpful to be able to download the basics and ways to apply it to real life (recipes, brands, etc.). The one on one sessions were also very helpful. Danielle was great at listening and directly answering the questions and concerns for me, and she relayed a lot of helpful tips, brands, and suggestions that applied to me and where I like to shop and what my needs are. Danielle is very kind and easy to speak to, always acknowledging that she hears what you are saying and then addresses the concerns directly. She clearly is very knowledgeable about current studies, and she does not push supplements or anything like that. Very easy to trust.
I feel that I am armed with knowledge moving forward. Now that I am tapering off of steroids, I feel more comfortable making food choices moving forward. I feel as if I am eating much cleaner, but am still feeling the effects of the steroids on my weight and energy/sleep…which I imagine will change when I am off them in a few weeks. It does take much more effort for me to be conscious of what I am eating, especially in group settings, but I am getting used to finding ways to be successful.
I feel as if it was very helpful for me to move forward with more confidence and knowledge. I am thankful that I was given the opportunity to take the course." – MR
"Before joining the Eating for Remission Program, I was concerned with how comfortable I would feel sharing personal stories in a group setting. I wasn't sure how I'd explain what I was feeling (in terms of symptoms) or how much others would be willing to share as well since this was my first time.
I decided to move forward and join the program because I realized I could learn so much from others' experiences and also from Danielle. I also longed for a sense of community and support. I needed help managing stress levels and asking for tips from others going through similar experiences. The situation made me feel ready and eager to hear different perspectives.

After setting a goal after most of our meetings, I noticed I am adapting that habit more. I make weekly goals that help me either get more sunlight everyday for at least 15 minutes, use my planner more, drink water, and try a new food when I feel up for it. The goals really vary depending on the week, but it has been a great change. The group support provided the accountability I needed to push myself to finally incorporate something positive like this for myself.
As a result of the program, I am feeling more confident about talking about my UC with others who ask. It was very challenging to try to explain my condition to others who were not familiar with it, but the information I learned gave me a clearer understanding. I also gained more confidence with food choices. I am able to know how to work around trying new foods and I am able to keep my water intake constant unlike before.
What I enjoyed the most were the slide presentations. I learned so much about my condition in the program than I ever did on my own. Not only this, but I was able to ask any questions that came up during the sessions.
I would definitely recommend the program to others. This was a supportive, encouraging, and comfortable environment." -RH
"I was going through a miscarriage when I decided to contact Danielle. I knew that being overweight was a risk factor for miscarrying…During the past 18 months, my resolve to eat well went out the window due to a serious decline in my physical and mental health…I knew that I needed some concrete directions with regard to my diet. It had been off the rails for a while, and I was not feeling well at all.
A big factor [to sign up for the nutrition program] was the cost. The hybrid nutrition program option made it more affordable…I was looking forward to meeting other people with Crohn's and was able to make a connection and hope to keep in touch with that person. 
It was very nice to be able to meet other women with similar issues. I was surprised at how new to Crohn's the other members were. I wish that I had done something like this years ago. When I first got diagnosed in 2006 my doctor was adamant that diet had zero effect on IBD. I struggled with that for a long time and had to make a lot of self-directed decisions around my diet.  
I have noticed some small changes since starting the program. I still have a lot of work to do. Being in the program made me feel hopeful and optimistic. It gave me the motivation to meal prep and cook better meals for myself and my family…I have been able to follow easy recipes and snack ideas for easier meal prep. My weight did not change, but I do feel much more confident in my food choices. I really like having a detailed meal plan because it takes the guesswork out of deciding what to make.
I would definitely recommend this program to anyone at any time in their IBD journey, but would encourage someone to start when newly diagnosed." – MC
"I decided to move forward with the program because I wanted to try to take control of my health – or find ways to better control things. Learn new nutrition facts that I could implement in daily life. I'm anxious to be out of the flare and healthy and really see the difference in eating for my health.
After the program, I'm feeling more confident about food choices. Definitely been listening to my body more and knowing what things I should avoid or limit. It has been telling me all along I just wasn't listening. I do notice feeling better when I stay hydrated, eat smartly and pay attention to what I put into my body rather than just eating whatever's in front of me. Hearing other people's experiences, being reminded I'm not alone, and learning more about foods that will help my body were what I enjoyed most." – MA
"I decided to work with Danielle because she has family members that have IBD and I found that extremely authentic and relatable. I definitely knew that what she offered was where I needed help in and in terms of how this whole situation with Crohn's disease and the surgeries and losing my job it made me feel like and some of the biggest challenges of my life. I just felt like this situation with Crohn's disease was something I just couldn't get my hands around and I didn't know what to do and I was I was definitely not doing well. I knew that if I wanted to change my life, I had to make a decision quickly my health.
Overall, my life has definitely improved dramatically since working with Danielle. Her modules are incredibly well put together and easy to learn, easy to take notes, and her group sessions are really, really awesome to be a part of. I would say the thing I enjoyed most about working with Danielle from all of those things I mentioned would be the group sessions since there's other people that that join her group sessions that have Crohn's disease and be able to also share my experiences with them and the fact that she's also able to share her experiences with her family members who have an inflammatory bowel disease, it just great to get those things off your chest.
There are many changes that I've noticed in my health, life, and well-being since working with Danielle. For example, being able to track my food and symptoms on a daily basis I've been able to make significant changes on a daily or weekly or monthly basis and then I can also use that symptom information when I go to a doctor's visit or when I go to some kind of when I'm discussing with some kind of health professional my overall health I can definitely reference that. If it wasn't for Danielle, I would have never found out about that app. Another thing is food labels on a daily basis. Before I eat something new, I look at the food label to see if it has any ingredients that could cause flares or could cause issues or diarrhea or increased bowel movements, so with that being said I'll be I've been able to reduce junk food just terrible things that I can do me harm. I've definitely also improved/increased the amount of times I drink water. She's helped me also figure out like OK nine cups of water a day is the goal, so I set an alarm for myself every day at 4:00 o'clock to make sure I've drink or drank at least several bottles or several glasses of water. Danielle also encouraged me to try new things like yoga or meditation or walks out in the park. So overall, my life has improved dramatically since working with Danielle.
I would definitely recommend Danielle services to others, which I've already have. The other thing that I had the pleasure of working with Danielle on is that she is helping me support United States Veterans who have Crohn's and colitis, as about 65,000 of US veterans have Crohn's or colitis. I'm very thankful and grateful that she's helping me and other veterans with our Crohn's and colitis or other inflammatory bowel disease issues. I would say she's extremely reliable and professional and it's very easy to work with her."
"I was stuck and knew I needed more knowledge. Drs don't give you any. I felt lost. I wanted to learn all I can about my condition and see other people with the same problems.
Now I am more confident about my food choices. Sometimes it's still hard to give up certain foods that I know will make me sick. But I'm getting better. I am more empowered and know what foods and ingredients to avoid. I am much better off health wise." – SW
"I was already in deep remission, however, the program did help me expand my diet, expand my possibilities, keep more peace of mind when eating, and lose a little bit of my fear of food, and Danielle really helped me with that. I also had some things wrong like preconceptions and certain diets and Danielle helped me as a guide to get things right and be able to enjoy more life and food.
Danielle is very punctual and is very on top of things. Whenever I will send an e-mail, she will respond in very short amount of time. She was very methodical and very organized, and the very the good thing is that you learn at your own pace because you have all the slides with the videos and you have even the PDFs. On top of that you know you have your individual meetings with Danielle and group meetings where you can ask questions, so I think it's a very well rounded program." – MB