These healthy salmon skewers are delicious and easy to make. They are loaded with anti-inflammatory omega-3s, antioxidants, and tremendous flavor in every bite.
Check out the nutritional benefits of the ingredients used in this recipe below:
Nutritional Benefits at a Glance:
Salmon
Salmon is one of the best sources of omega-3s, which have been shown to reduce inflammation (among other health benefits, like being good for your heart, brain, and mood). Salmon is also rich in high-quality protein, which helps your body heal, protects bone health, prevents muscle loss, among other things. Additionally, this fish is an excellent source of several B vitamins (including vitamin B12, a nutrient in which IBD warriors may be deficient), which are needed for energy production, controlling inflammation, and more. Salmon also contains potassium, selenium, astaxanthin (an antioxidant).
Italian Seasoning
This herb blend is composed of antioxidant powerhouses! Not only will these ingredients contribute to lowering inflammation, but it adds a pop of flavor that will elevate your recipe to a whole new level.
Avocado Oil
I like to use avocado oil not only because it's a healthy fat, but because it has a high smoke point of 500°F. Oils that have a lower smoke-point like olive oil (smoke point of 350°F) turn rancid when cooked above a certain temperature, which has been linked to cancer. Therefore, use olive oil for colder dishes like salad dressings. Canola oil has a smoke point of 400° and contains omega-3s, but has been linked to inflammation if heavily consumed.
Mushrooms
While nutritional benefits vary based on the type of mushroom used, in general, mushrooms are good sources vitamins, minerals, and antioxidants, such as potassium, vitamin D, selenium, phosphorous, copper, and B vitamins (vitamins B2, B3, and B5).
Tomatoes:
Tomatoes are a good source of several vitamins and minerals, including vitamin C, potassium, vitamin K1, and folate (vitamin B1). Additionally, tomatoes contain several plant compounds that have been linked to health and lowering inflammation too, such as lycopene, beta carotene, naringenin, and chlorogenic acid.
Greek Yogurt or Coconut Yogurt:
Greek yogurt differs from other dairy yogurts because it goes through a straining process to remove the whey (whey is a liquid that contains lactose). If you're able to tolerate Greek yogurt, it is an excellent source of nutrients. For example, it contains calcium, which promotes bone health and can reduce the risk of osteopenia and osteoporosis (this is so important, especially if taking corticosteroids like prednisone). Additionally, Greek yogurt contains probiotics, which may benefit gut health. Finally, it is a good source of protein. I recommend purchasing an unsweetened, non-fat version of Greek yogurt for this recipe.
However, if you're unable to tolerate the lactose in Greek yogurt, a non-dairy yogurt such as coconut yogurt may be a good alternative. Many non-dairy yogurts found in the market contain probiotics, as well as added nutrients like vitamin B12. Please note that coconut yogurt is not a good source of protein, and that it will likely be higher in fat than a lower-fat Greek yogurt. Keep in mind that many of the flavored versions of coconut yogurt pack 15 times as much sugar as the unsweetened types. Therefore, I would recommend choosing an unsweetened coconut yogurt for this recipe.
Cucumbers
Cucumbers have a high water content. In fact, cucumbers are made up of about 96% water. While eating cucumbers with the peel provides the maximum amount of vitamins and minerals, you could peel them to decrease the fiber content.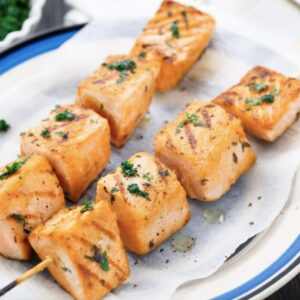 Salmon & Veggie Skewers with Herbed Yogurt Dip
Ingredients
4

Tbsp

avocado oil

3

Tbsp

Italian Seasoning

divided; see notes section for more info

1 1/2

lbs

salmon

without skin, cut into 1 inch cubes

12

whole mushrooms

12

cherry tomatoes

1

cup

plain non-fat Greek yogurt

or unsweetened coconut yogurt (plain nonfat Greek yogurt used in nutritional analysis)

1/2

cucumber

grated
Instructions
Salmon Skewer Instructions
Using a small bowl, add 3 Tbsp. avocado oil and 1 Tbsp. Italian Seasoning and mix well.

Place your one inch salmon into a bowl. Place your cut up vegetable into a separate bowl.

Using a spoon drizzle flavored avocado oil over vegetables and mix well so all veggies are coated with avocado oil. Repeat with salmon and mix well so all pieces of fish are well coated.

Using skewers, place fish and vegetables onto skewers alternating fish and veggies until everything is used up. 

Pre-heat grill to 500°F. Reduce heat to about 400°F.

Place skewers on grill. Cook until there is are nice grill marks and then turn skewers so all sides are cooked evenly. Remove when fish has reached an internal temperature of 140°F.

Let rest for a couple of minutes.
Yogurt Dip Instructions
Place yogurt into a medium size bowl with 2 Tbsp. Italian Seasoning, 1 cup yogurt, and grated cucumber. Mix well and serve with salmon & veggie skewers.
Notes
No Grill?
This can also be prepped on a stove top griddle.
Nutrition
Serving:
6
servings
Calories:
320
kcal
Carbohydrates:
6.1
g
Protein:
25.2
g
Fat:
20.4
g
Saturated Fat:
4.3
g
Cholesterol:
64
mg
Sodium:
328
mg
Potassium:
70
mg
Fiber:
1.3
g
Vitamin C:
2.8
mg
Calcium:
51
mg
Iron:
2
mg