With just three ingredients, this is one of the easiest appetizers or snacks you'll ever make. Bonus: it's delicious and nutritious!
Check out the nutritional benefits of the ingredients used in this recipe below:
Nutritional Benefits at a Glance:
Tuna
Eating canned tuna is an easy way to increase the omega-3s in your diet. Omega-3s are essential dietary fats that have demonstrated anti-inflammatory effects throughout the body, and may have a powerful role in IBD management.
In addition to healthy fats, canned tuna is an inexpensive source of lean protein, as well as a good source of several vitamins and minerals, especially vitamin D and selenium.
Finally, despite being canned, many brands of canned tuna are minimally processed, containing only tuna, water or oil, and salt.
Important note: Because tuna eat other small fish that may already be contaminated with mercury, this metal may collect and concentrate in tuna. Thus, tuna tends to be higher in mercury than other types of fish like salmon.
However, the amount of mercury present depends on the type of tuna! In general, larger varieties of tuna, like bigeye and albacore, tend to be higher in mercury. Smaller tuna fish, like light tuna and skipjack, are lower in mercury, so I would recommend buying these varieties more often.
Cucumber
Cucumbers are composed of about 96% water, which may increase hydration and help you meet your daily fluid needs. Cucumbers contain antioxidants, including flavonoids and tannins, which prevent the accumulation of harmful free radicals and may reduce the risk of chronic disease. Please note that eating cucumbers with the peel provides the maximum amount of nutrients, but in this recipe I peeled the cucumber as it can be a way to reduce the insoluble fiber and total fiber content of this vegetable and recipe.
Mayonnaise
With careful selection, proper preparation and storage, and moderate use, mayonnaise can be a delicious and healthful addition to a an eating pattern.
Almost any edible oil can be used to make mayonnaise, so the oil itself is the biggest factor in the healthfulness of the recipe. In the United States, most commercial mayonnaise is made with soy oil, which some experts feel is problematic due to its high levels of omega-6 fats, too many of which have been linked to inflammation. Therefore, I recommend choosing a mayo brand made with avocado or olive oils (anti-inflammatory, healthy fats), and minimal food additives.
The concern about bacteria in mayonnaise is mainly rooted in the fact that homemade mayonnaise is usually made with raw egg yolk. Commercial mayonnaise, however, is not normally a problem because it is made with pasteurized eggs and is produced in such a way as to keep it safe.
Regardless of the type of mayonnaise you choose, always follow food safety guidelines. Mayonnaise-based dishes should not be left out of the refrigerator for more than two hours. Opened jars of commercial mayonnaise should be stored in the refrigerator after opening and discarded after two months.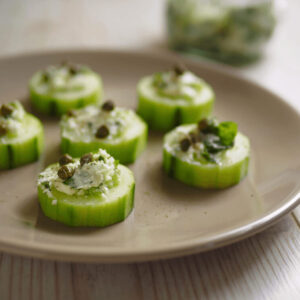 Cucumber Tuna Bites
Ingredients
1

can

Tuna

flaked and drained

1

large

Cucumber

peeled, sliced into rounds

2

Tbsp

Mayonnaise
Instructions
Add the tuna and the mayonnaise to a small bowl and mix together.

Top each cucumber round with a spoonful of the tuna mixture.
Notes
Leftovers:
Refrigerate leftovers separated in a sealed container for up to three days.
More flavor:
Add spices or herbs to the tuna mixture such as Italian Seasoning, dill, parsley, or curry powder.
Additional Toppings:
Top with microgreens or capers.
Canned Tuna:
One can of tuna is equal to 165 grams (5.8 ounces).
Nutrition
Serving:
1
serving
Calories:
187
kcal
Carbohydrates:
6
g
Protein:
17
g
Fat:
11
g
Saturated Fat:
2
g
Cholesterol:
36
mg
Sodium:
294
mg
Potassium:
372
mg
Fiber:
0.75
g
Sugar:
3
g
Vitamin A:
2144
IU
Calcium:
39
mg
Iron:
2
mg