This virgin passion fruit mojito recipe is not only made with anti-inflammatory ingredients, but its refreshing flavor will help you beat the summer heat and transport you to an exotic island.
Drinking alcohol may increase inflammation in people with an inflammatory bowel disease (IBD). If you have Crohn's disease or ulcerative colitis and are looking for a fruity and delicious mocktail recipe, this is it! This recipe is alcohol-free and friendly for the Mediterranean Diet, Paleo Diet, AIP Diet, and Low-FODMAP Diet.
Preparing the Passion Fruit for Your Mocktail
The liquid nature of passion fruit pulp makes it the perfect tangy twist to add to mocktails. If you cut a passion fruit in half, you'll find sacs that are filled with orange-colored juice and small, crunchy seeds. This juicy mixture is known as passion fruit pulp.
If you prefer not to eat the passion fruit seeds, you can strain them from the pulp to get a more juice-like consistency. You can strain the pulp by using a strainer or cheesecloth. Pressing the pulp with the back of a spoon can help force the juice through.
Is There Seedless Passion Fruit?
You can also buy seedless passion fruit pulp on the internet. For this recipe, I found the WanaBana brand on Amazon (I was not paid or sponsored to mention this brand), as the pulp did not have any preservatives or additives or added sugars. It also came in BPA-free packaging and has a shelf life of 12 months.
Health Benefits of Ingredients for a Passion Fruit Mojito
Check out the nutritional benefits of the ingredients used in this recipe below:
Passion Fruit Pulp
Passion fruit also contains many antioxidants. It's particularly rich in vitamin C, beta carotene, and polyphenols:
Vitamin C: Vitamin C is an antioxidant and essential vitamin, meaning that the body can't produce this vitamin on its own and needs to obtain it through the diet. Vitamin C helps boost iron absorption and the immune system.
Beta carotene: Beta carotene is an antioxidant with an orange-colored pigment. The body turns beta-carotene into vitamin A, a vitamin which is essential for the immune system to function properly and preserve good eyesight.
Polyphenols: Polyphenols are plant compounds that have a range of antioxidant and anti-inflammatory effects. This means they may reduce the risk of chronic inflammation.
Lime Juice
Limes are high in vitamin C, but also contain small amounts of:
iron
calcium
vitamin B6
thiamine
potassium
other antioxidants and nutrients.
Limes may offer many health benefits such as aiding iron absorption, helping improve immunity, and preventing kidney stones.
Mint Leaves
Although not typically consumed in large quantities, mint contains fair amounts of several nutrients and is an especially good source of vitamin A and antioxidants. Mint may also improve digestion for some people.
Maple Syrup
Maple syrup contains several antioxidants and provides a decent amount of some minerals, especially manganese and zinc.
While maple sugar is naturally high in sugar, this recipe provides a small amount per serving. This makes it more IBD-friendly, and lower in sugar compared to soda or other sugar-sweetened beverages.
Soda Water
Soda water, also known as sparkling or carbonated water, combines water and carbon dioxide under pressure. Plain carbonated water will not have any added sugars, sweeteners, or artificial flavorings. Sparkling water hydrates the body in the same way as plain water.
When compared to other drinks, carbonated water can be seen as a healthier alternative. Please note that current nutritional research does not show evidence that carbonated or sparkling water is bad for you — it's not harmful to dental health and it seems to have no effect on bone health.
Difference Between a Passion Fruit Mocktail and Cocktail
The difference between a cocktail and mocktail is whether alcohol is included or not. A mocktail is a non-alcoholic beverage made without alcoholic ingredients. These can also be referred to a "zero-proof" drinks.
This recipe has purposefully omitted alcohol, as alcohol may be detrimental for people with IBD. However, alcohol can be added to this recipe optionally, if preferred.
How to Make a Passion Fruit Mojito
This quick and easy recipe only requires a few steps. Add all of the ingredients other than the soda water to a pitcher. Then add soda water to the pitcher. Gently stir until everything is mixed well. Divide between glasses and enjoy! If you are making this drink for a group and some people want alcohol, add the alcohol after you add the soda water.
If you'd like to add more flare to this recipe, consider muddling the mint before adding the rest of the ingredients into the pitcher or adding frozen fruit to the glasses instead of ice cubes.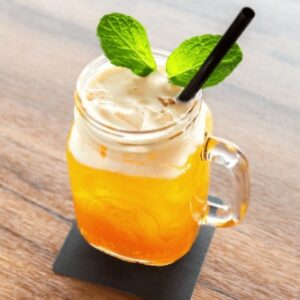 Virgin Passion Fruit Mojito
Ingredients
1.5

Tbsp

Passion Fruit Pulp

strained

2

Tbsp

Lime Juice

juice from about 1 lime

1

Tbsp

Maple Syrup

16

Mint Leaves

8

Ice Cubes

2

cups

Soda Water
Instructions
Add all the ingredients into a pitcher, adding the soda water last. Gently stir until everything is mixed well.

Divide between glasses and enjoy!
Notes
Leftovers:
Refrigerate in the pitcher with a lid for up to two days.
To ensure a fizzy drink, add more soda water just before serving.
More Flavor:
Muddle the mint before adding the rest of the ingredients into the pitcher.
Add frozen fruit to the glasses as ice cubes.
Nutrition
Serving:
1
serving
Calories:
38
kcal
Carbohydrates:
10
g
Sodium:
2
mg
Potassium:
101
mg
Sugar:
7
g
Vitamin A:
144
IU
Vitamin C:
9
mg
Calcium:
21
mg
If you can't tolerate any type of alcohol or are choosing to limit alcohol consumption during a flare, consider enjoying a non-alcoholic mocktail, like this virgin passionfruit mojito mocktail!
Looking for more IBD-friendly beverages? Here's another recipe to consider: