This simple banana pancake recipe is on regular rotation in my home. Not only does my picky-eater husband (with Crohn's disease) love these pancakes, but they've also been a hit with brunch guests without gut issues.
Nutritional Benefits and Considerations at a Glance
Bananas:
Bananas are a good source of vitamins, minerals, fiber, and antioxidants. Ripe bananas (with spots) are recommended for this recipe, not only for their sweeter flavor, but because they may be easier to tolerate by people with IBD than less ripe bananas.
Pro-tip: For fuss-free banana mashing: stick them in a zip-lock bag, zip, and squeeze! When you're done, cut a corner off and you have a pour spout!
High-Heat Oil:
I like to use avocado oil, not only because it's a healthy fat, but because it has a high smoke point of 500°F. Oils that have a lower smoke-point like olive oil (smoke point of 350°F) turn rancid when cooked above a certain temperature, which has in turn been linked to cancer. Canola oil has a smoke point of 400° and contains omega-3s, but has been linked to inflammation if heavily consumed.
Note that applesauce may be substituted for the oil at a 1:1 ratio, if preferred. This will lower the fat, and only slightly increase the fiber in the recipe.
Coconut Sugar:
Coconut sugar contains small amounts of minerals (iron, zinc, calcium, and potassium) as well as some antioxidants.
Please note: People with diabetes should be aware that even though coconut sugar is a natural sugar and has a lower glycemic index than regular table sugar, it will still cause blood sugar levels to increase.
Non-Dairy Milk:
My husband with Crohn's disease is lactose intolerant, so I chose to make this recipe using oat milk (the creamiest of the non-dairy milks). Any milk will work in this recipe though! If you'd prefer a higher-protein non-dairy milk, soy may be a food option. If you'd like a lower carb non-dairy milk that is easy to make at home, then almond milk may be the option for you. Note: fortified non-dairy milks can be a good source of vitamin B12 and calcium (meaning those nutrients were added to a food that normally doesn't contain those nutrients), but if you choose to make a homemade non-dairy milk, it won't contain those fortified vitamins and minerals.
Flour:
My husband is able to tolerate gluten and wheat, so I used all purpose flour win this recipe. However, if you're unable to consume gluten, gluten-free flours can easily be substituted in this recipe at a 1:1 ratio!
Eggs:
Fun-fact: Did you know that eggs from hens that were fed omega-3 enriched feeds tend to be much higher in omega-3 fatty acids. Omega-3s have been linked to lowering inflammation in IBD, so why not use an omega-3 egg in this recipe? Every little bit of omega-3 helps in my book!
Eggs are also among the best dietary sources of choline, a nutrient that is incredibly important for our cells and brains. They also contain antioxidants that are important for eye health.
Wondering why eggs got a bad rap in the past? Eggs were tied to cholesterol issues. BUT, while eggs are high in cholesterol, eating eggs does not raise "bad" cholesterol levels in the blood for the majority of people (70% of people are fine, while the other 30% of people may see mild raises in total and LDL cholesterol).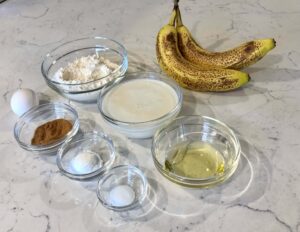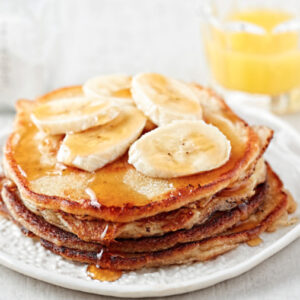 Banana Pancakes
This simple banana pancake recipe has just 8 ingredients (which can easily be substituted for any food triggers/sensitivities). My picky-eater husband with Crohn's disease loves the flavor and texture of these pancakes…and I love how quick and easy it is to whip up this recipe!
Ingredients
1

cup

all purpose flour

1

Tbsp

coconut sugar

2

tsp

baking powder

1/4

tsp

salt

1

large

egg, beaten

1

cup

non-dairy milk

2

Tbsp

high-heat oil

2

ripe

bananas, mashed

1/2 tsp vanilla extract optional
Instructions
Combine flour, sugar, baking powder, and salt in a medium bowl.

In a separate large bowl, mix together egg, milk, oil, and bananas.

Stir flour mixture into banana mixture (batter will be slightly lumpy)

Heat a lightly oiled griddle or pan over medium heat.

Pour or scoop the batter onto the griddle, using approximately 1/4 cup for each pancake. 

Cook until pancakes are golden brown on both sides; serve right away.
Nutrition
Serving:
2
pancakes
Calories:
195
kcal
Carbohydrates:
31
g
Protein:
4.1
g
Fat:
6.7
g
Saturated Fat:
1
g
Cholesterol:
30.8
mg
Sodium:
128
mg
Potassium:
238
mg
Fiber:
1.7
g
Vitamin A:
51.3
IU
Vitamin C:
3.7
mg
Calcium:
82
mg
Iron:
1.25
mg