If you're looking for a breakfast that's nutritious, delicious, easy-to-make, and gut-friendly, this asparagus and mushroom frittata is it!
This simple recipe is friendly to many dietary restrictions. It is:
gluten-free
dairy-free
nut-free
nightshade-free
soy-free
grain-free
Plus, it also fits the Specific Carbohydrate Diet (SCD Diet), Mediterranean, Paleo, and vegetarian diets. The asparagus mushroom frittata is packed with anti-inflammatory veggies, yet is still low in fiber to make it IBD-friendly.
Gut-Friendly Frittata
Easily digestible and rich in nutrients, this frittata can soothe and support damaged gut linings (a characteristic of leaky gut syndrome) with phytonutrient-rich plants, prebiotics, and vitamins A and E.
What's the Difference Between a Frittata and a Quiche
While somewhat similar, there are three main differences between a frittata and quiche.
Crust: Quiches typically have pastry crusts to hold the quiche filling. Alternatively, a frittata is almost like a crustless quiche, so is gluten-free and can be baked directly in a skillet.
Filling: Because of the crust, the filling of quiches can be softer. This means that a significant amount of dairy (usually heavy cream) may be added to quiches. Alternatively, dairy is not a necessity in a frittata and gives the veggies time to shine.
Pan: Quiches are baked in a pie or tart pan, while frittatas are made in a cast-iron or oven-safe skillet.
Asparagus comes in several different colors: green, purple, and white. Green is the most common variety in the United States. I recommend choosing baby or thin asparagus spears in your frittata, as they are easier for eating and serving, and look more appealing. Asparagus is best when purchased when the stalks are dry and tight, not wilted, soft, or limp.
Here's a pro-tip to keep asparagus fresh until it's time to cook: wrap the asparagus stem ends in a wet paper towel, place inside of a plastic bag, and store in the refrigerator.
Using Asparagus in a Frittata
Asparagus is a tasty and healthful addition to this frittata. It is rich in essential nutrients like:
folate
potassium
vitamin K
vitamin A
iron
zinc
magnesium
antioxidants
Prebiotic Benefits of Asparagus
Asparagus is a key source of inulin, a type of fiber that supports beneficial gut bacteria in the microbiome. It does so, at least in part, by preventing the growth of more harmful bacterial byproducts (endotoxins).
With roughly two to three grams of inulin per serving, asparagus could potentially aid in the control of specific chronic diseases like Crohn's disease and ulcerative colitis.
Benefits of Adding Mushrooms
Mushrooms not only add a savory, rich flavor to this frittata, but they also contain valuable nutrients including:
selenium
potassium
copper
phosphorous
vitamin C
choline
B vitamins (B2, B3, folate, B5).
Interestingly, mushrooms contain a substance called ergosterol, which can be transformed into vitamin D with exposure to ultraviolet light.
Prebiotic Benefits of Mushrooms
Compounds in mushrooms like beta glucan appear to act as prebiotics, providing fuel for beneficial gut bacteria to grow and creating a more favorable environment in the gut microbiome.
How to Choose Your Mushrooms
When buying fresh mushrooms for this frittata with mushrooms, choose ones that are firm, unbruised, and dry. You'll want to avoid mushrooms that appear withered or slimy.
I use white or baby Bella mushrooms for this recipe. Buying bagged, pre-sliced mushrooms can save time and energy. Store mushrooms in the refrigerator until ready to cook the frittata.
Gluten-Free Frittata
This gluten-free frittata does not have a crust, so this dish does not contain any wheat or other grain ingredients. This means that it's safe to consume on gluten-free and grain-free diets.
How to Cook Asparagus for Frittata
The first step to cooking the asparagus in this recipe is to remove the bottom ends of the asparagus stalk, commonly the tougher, woody, and thicker part of the stem. Slice the remaining parts of the stalk.
After heating a small amount of oil in a cast-iron or other oven-proof skillet, add the sliced asparagus and allow to cook until fork-tender, about five to seven minutes. This will be just long enough so that the asparagus retains its bright green color but has not yet become a 'pea soup' green color (indicating asparagus is limp and overcooked).
How to Cook Mushroom for Frittata
Wash and prepare mushrooms by slicing. Heat a small amount of oil in a cast-iron or other oven-proof skillet. Add the sliced mushrooms and cook until they have softened, about five to seven minutes.
How to Make an Asparagus Mushroom Frittata
This simple asparagus mushroom frittata recipe is not only gut-friendly but will also be sure to please family and friends who don't have any digestive issues! The basic recipe calls for eight large eggs, water, avocado oil, mushrooms, asparagus, and green onions.
Cook the raw veggies until soft/fork-tender, stir in the eggs, and transfer skillet to oven until eggs have set. Bake the frittata according to the recipe instructions. Because the frittata can be served warm, at room temperature, or even cold, this dish is perfect for making ahead of time for brunches or a group.
Frittatas are done baking in the oven when the center is slightly jiggly, and the edges are light golden brown. After cooking, slice into wedges and serve!
Please note that more flavor can be added to the frittata recipe by using your milk of choice (instead of water), or by adding Italian Seasoning, fresh or dried herbs, garlic, or even red pepper flakes. You can also use 7 large eggs plus two egg yolks for an ultra-rich flavor.
How Do You Keep a Frittata Moist?
If left in the oven too long, a frittata will become dry, rubbery, and crumbly. To ensure the frittata stays moist, cook in the oven until the center is no longer jiggly and the edges are golden-brown.
For reassurance that the frittata is cooked and safe to eat, place a sharp knife into the center of the dish. If the eggs run into the cut, baking for a few more minutes. If the egg mixture is just set, take the frittata out of the oven, and let stand for five minutes before slicing.
Leftovers will stay moist if kept in an airtight container in the fridge for up to three days. While leftovers are great cold, gently reheat the leftovers in a warm oven (300°F) or in the microwave at 50% power.
Getting The Right Texture For Your Asparagus Mushroom Frittata
When it comes to adding mix-ins like asparagus and mushrooms to a frittata, texture is key. That's why the veggies in this recipe are first cooked on a skillet with a small amount of oil. Once the vegetables have finished cooking, the egg mixture can be stirred into to the skillet, and the frittata mixture can be transferred to the oven.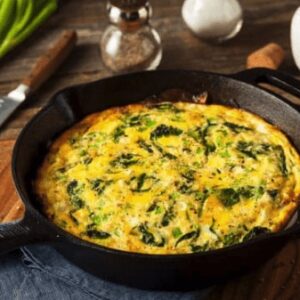 Asparagus & Mushroom Frittata
Equipment
1 cast-iron skillet

or oven-safe skillet

1 oven
Ingredients
8

large

Eggs

1/4

cup

Water

1

Tbsp

Avocado Oil

2

cups

Mushrooms

sliced

1

cup

Asparagus

sliced

2

stalks

Green Onion

chopped

Sea Salt & Black Pepper

to taste
Instructions
Preheat the oven to 400ºF (204ºC).

Add the eggs and water to a bowl and whisk well. Set aside.

Heat the oil in a cast-iron skillet, or another oven-proof skillet, over medium heat. Add the mushrooms and asparagus and cook until the mushrooms have softened and the asparagus is fork-tender, five to seven minutes. Stir in the green onion, salt, and pepper, and continue to cook for another minute until the green onions have softened.

Pour the whisked eggs into the skillet with the vegetables and let the eggs cook for about 30 seconds or until they just begin to set, before gently stirring with a spatula to ensure the vegetables are well incorporated into the eggs. Transfer the skillet to the oven.

Bake for 12 to 15 minutes or until eggs have set and are firm to the touch in the center of the pan. Let sit for five minutes before cutting into wedges. Season with additional salt and pepper if needed and enjoy!
Notes
Leftovers
Refrigerate in an airtight container for up to three days.
Serving Size
A 10-inch cast-iron pan was used for four servings.
More Flavor
Use milk of choice instead of water. Add Italian Seasoning, fresh or dried herbs, garlic, or red pepper flakes.
Nutrition
Serving:
1
serving
Calories:
192
kcal
Carbohydrates:
4
g
Protein:
15
g
Fat:
13
g
Saturated Fat:
4
g
Polyunsaturated Fat:
2
g
Monounsaturated Fat:
6
g
Cholesterol:
372
mg
Sodium:
146
mg
Potassium:
368
mg
Fiber:
1
g
Sugar:
2
g
Vitamin A:
1033
IU
Vitamin C:
4
mg
Calcium:
70
mg
Iron:
3
mg
Other Breakfast Recipes
Looking for other Crohn's disease and ulcerative colitis approved breakfast recipes? Here are some other IBD recipes to consider: