Fruits and vegetables are the cornerstone of any anti-inflammatory eating pattern! So if you are able to tolerate produce, I'd strongly recommend incorporating regularly into your eating plan! My husband with Crohn's was afraid to eat most veggies when we met, having been advised to not consume foods high in fiber during a flare. But we learned that my husband can tolerate many veggies, especially when cooked and/or during times when he's not flaring!
This recipe is for you if you're looking to try incorporating more vegetables into your eating plan, as:
the vegetables are cooked, thereby breaking down some of the fiber content in them
you can easily add or subtract veggies from this recipes to help determine tolerance.
Check out the nutritional benefits of the ingredients used in this recipe below.
Nutritional Benefits at a Glance
Egg Whites
Did you know that the nutritional value of an egg can depend on whether you eat the whole egg or just the egg white? For example, egg whites are high in protein, but low in calories. Interestingly, they pack around 67% of all of the protein found in eggs. Furthermore, egg white protein provides a "complete protein", meaning that it contains all nine essential amino acids that your body needs to function at its best.
Additionally, egg whites are low in cholesterol and fat, meaning that they're a good choice for people who need to limit their cholesterol intake, as well as those trying to lose weight. However, please note that egg whites are lower in vitamins and minerals than whole eggs.
Italian Seasoning
The secret ingredient in these egg muffins is Italian Seasoning. This herb blend includes antioxidant powerhouses! Not only will these ingredients contribute to lowering inflammation, but this spice blend will add a pop of flavor that will elevate your recipe to a whole new level.
Spinach:
Spinach is an excellent source of many vitamins and minerals, including vitamin A, vitamin C, vitamin K1, folic acid, iron, and calcium. It also contains several other vitamins and minerals, including potassium, magnesium, and vitamins B6, B9, and E. Furthermore, spinach contains many important plant compounds linked to improving health and lowering inflammation like lutein, kaempferol, nitrates, quercetin, and zeaxanthin.
Tomatoes:
Tomatoes are a good source of several vitamins and minerals, including vitamin C, potassium, vitamin K1, and folate (vitamin B1). Additionally, tomatoes have several plant compounds that have been linked to better health and lowering inflammation, too, such as lycopene, beta carotene, naringenin, and chlorogenic acid.
Green Onion:
Nutritionally, green onions have a combination of the benefits found in onions and leafy greens like spinach. They are an excellent source of vitamin K, as well as a good source of vitamin A, vitamin C, and folate (vitamin B9).
Olive Oil:
Because these egg muffins are baked at a relatively low temperature, I opted to use extra virgin olive oil in this recipe for its anti-inflammatory and healthy fat (monounsaturated fat) content. Avocado oil would also work for this recipe because of its neutral flavor, high smoke point, and anti-inflammatory properties; however, avocado oil tends to be more expensive than extra virgin olive oil.
Parmesan Cheese (optional):
Dairy foods are a primary source of calcium, a mineral that is important to good health, and even more important when taking corticosteroids like prednisone! Some people who are lactose intolerant, like my husband with Crohn's, may have trouble digesting foods with lactose, and have symptoms such as bloating, gas, etc. However, some people who suffer from lactose intolerance can safely eat dairy foods that contain a little less lactose (less than 1 gram lactose per serving). Parmesan cheese is an aged cheese that is low in lactose. However, if you're extremely lactose-intolerant, you can absolutely omit the cheese and still have a delicious and flavorful muffin. Alternatively, taking lactase supplements (like Lactaid) before consuming a dairy product may help alleviate symptoms!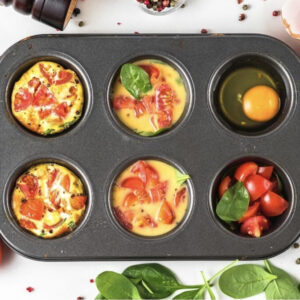 Mini Egg White Cups with Veggies
Equipment
Sauté Pan

Bowl

Muffin pan

Parchment paper muffin cups
Ingredients
1

Tbsp

olive oil

2

cups

fresh spinach

2

stalks

green onion

chopped

8

mushrooms

sliced

1 1/2

tsp

Italian Seasoning

8

egg whites

1/4

cup

Parmesan cheese

grated or shredded (Optional, but used in nutrition analysis)

6

cherry tomatoes

sliced in quarters
Instructions
In a pan, add olive oil and sauté green onions and mushrooms on medium-low heat for about 3-5 minutes. Add Italian Seasoning and mix into sautéed mushrooms and onions. Then add spinach and cook for an additional 2 minutes on low-heat. Place sautéed vegetable aside.

Separate eggs using only the egg whites. In a bowl, whip egg whites with a fork until there are foamy bubbles.

Place parchment paper muffin cups into muffin baking pan. Pour about 1/4 cup egg white into muffin pan, about halfway full. Scoop one spoonful of sautéed veggies into each cup (use a teaspoon). Optional: sprinkle Parmesan cheese on top of each mini quiche followed by a couple of tomato slices.

Bake at 350°F for about 20-30 minutes. Quiche tops should become golden brown. Remove from oven. Let cool 5 minutes and remove parchment paper. Place on serving dish and serve!
Notes
Storage
These freeze great and can be reheated in the oven or microwave.
Nutrition
Serving:
6
egg cups
Calories:
112
kcal
Carbohydrates:
4.2
g
Protein:
7.7
g
Fat:
7.1
g
Saturated Fat:
2.1
g
Cholesterol:
128
mg
Sodium:
270
mg
Potassium:
427
mg
Fiber:
2.4
g
Vitamin C:
20
mg
Calcium:
112
mg
Iron:
3
mg