Are you looking for a way to boost the flavor of pancakes with anti-inflammatory ingredients? If so, then this recipe is for you! Not only does my picky-eater husband with Crohn's approve of the flavor and texture of the pancakes, but the aroma that fills my kitchen makes my mouth water. I'm never going back to regular pancakes again!
Check out the nutritional benefits of the ingredients used in this recipe below.
Nutritional Benefits at a Glance
Non-Dairy Milk
My husband with Crohn's disease is lactose intolerant, so I chose to make this recipe using oat milk. If you'd prefer a lower carb, non-dairy milk that is easy to make at home, then almond milk might be the option for you. If you'd like greater depth to your plant-based milk, then hazelnut milk may be worth a try. This milk has both sweet and savory notes, and is creamy, too!
Note: fortified non-dairy milks can be a good source of vitamins and minerals like calcium (meaning nutrients like calcium were added to a food that normally doesn't contain them), but if you choose to make a homemade non-dairy milk, it won't contain fortified vitamins and minerals.
Pumpkin Pie Spice
Pumpkin pie spice can provide anti-inflammatory effect and adds a warm and perfectly-spiced flavor to your pancakes.
Orange zest
Orange peel is rich in several nutrients, including vitamin C and plant compounds like polyphenols. Did you know that just 1 tablespoon of orange peel provides 14% of the Daily Value (DV) of vitamin C, which is nearly three times more than the inner fruit? Orange peel also contains good amounts of vitamin A, calcium, folate, and vitamins B5 and B6.
Pro-tip: Pesticides are frequently used on citrus fruits like oranges to protect against mold and insects. Though studies have found the inner fruit of oranges to have very low or undetectable pesticide levels, the peels contain significantly higher amounts. I recommend washing the oranges under hot water to reduce the amount of pesticides ingested.
Coconut oil
I use coconut oil as a substitute for butter in this recipe. While coconut oil is high in saturated fat, it is also high in medium-chain triglycerides (MCTs), which is a type of fat that the body metabolizes different than most other fats. If a person is experiencing malabsorption, MCTs may be easier to digest.
I recommend using extra virgin coconut oil if possible, because it comes from the fruit of fresh, mature coconuts and processing does not involve high temperatures or added chemicals. Additionally, it's worth checking the food label to avoid oil that contains partially hydrogenated coconut oil.
Eggs
Fun-fact: Did you know that eggs from hens that were fed omega-3 enriched feeds tend to be much higher in omega-3 fatty acids. Omega-3s have been linked to lowering inflammation in IBD, so why not use an omega-3 egg in this recipe? Every little bit of omega-3 helps in my book!
Eggs are also among the best dietary sources of choline, a nutrient that is incredibly important for our cells and brains. They also contain antioxidants that are important for eye health.
Wondering why eggs got a bad rap in the past? Eggs were tied to cholesterol issues. BUT, while eggs are high in cholesterol, eating eggs does not raise "bad" cholesterol levels in the blood for the majority of people (70% of people are fine, while the other 30% of people may see mild raises in total and LDL cholesterol).
Flour
My husband is able to tolerate gluten and wheat, so I use all-purpose flour in this recipe. However, if you're unable to consume gluten, you could substitute it for a gluten-free flour.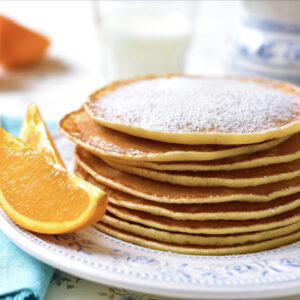 Spiced Pancakes with Orange Zest
Adopted from Fine Cooking, this pancake recipe will add warmth and spice to your morning breakfast.
Ingredients
Pancake Ingredients
2 3/4

cups

all-purpose flour

add more if batter is thin

1 1/2

tsp

baking powder

1/2

tsp

baking soda

1/2

tsp

salt

1 1/2

tsp

Pumpkin Pie Spice

2 3/4

cups

oat, almond, or hazelnut milk

oat milk was used in the nutritional analysis

2

large

eggs

2

Tbsp

coconut oil or butter

melted

1/4

cup

sugar

1

medium

orange, skin zested

Use half for batter. Save other half for topping of pancakes

non-stick cooking spray or butter

for pan
Optional Topping Ingredients
maple syrup

3

Tbsp

powdered sugar

1

Tbsp

Pumpkin Pie Spice

sprinkle

granola
Instructions
Pancake Instructions
In a large bowl, combine flour, baking powder, baking soda, salt and pumpkin pie spice. Mix well.

In a medium size bowl mix milk, eggs, butter, sugar. Beat with whisk. Mix well.

Combine wet ingredients with dry ingredients. Using a whisk, mix, but do not over-mix! There will be lumps in the batter — this is normal!

Let batter sit for 5 minutes.

Heat up pan. Once pan is hot spray with cooking spray or melt butter into pan. Pour batter into pan.

Flip pancakes once bubbles form on the top of the pancakes and check underside for a nice golden-brown color.

Cook second side until golden brown and remove onto serving plate.
Potential Topping Instructions
Combine powdered sugar and pumpkin pie spice. Mix well. Place pancakes onto plate, drizzle syrup, then powdered sugar with cinnamon. Sprinkle some orange zest. For people who like a crunch, add granola.
Notes
Save Time
The batter can be prepared a day or two before so it is ready to go.
Nutrition
Calories:
275
kcal
Carbohydrates:
52
g
Protein:
8.5
g
Fat:
7
g
Saturated Fat:
3
g
Cholesterol:
62
mg
Sodium:
650
mg
Potassium:
260
mg
Fiber:
1.7
g
Calcium:
192
mg
Iron:
3.1
mg