Have you wanted to try incorporating more turmeric into your eating plan? If so, these Moroccan Mashed Potatoes are worth a try!
Check out the nutritional benefits of the anti-inflammatory ingredients used in this recipe that will help combat inflammation and manage IBD symptoms.
Nutritional Benefits at a Glance:
Turmeric:
The anti-inflammatory properties of turmeric are being studied with increasing frequency, and encouraging results have been seen lowering inflammation, especially in people with IBD.
Turmeric powder has the highest curcumin concentration (you can think of curcumin as the active anti-inflammatory ingredient in turmeric).
Note that in this recipe, we will be combining turmeric with both black pepper and a healthy fat (avocado oil). This combination greatly boosts the body's ability to absorb the turmeric!
Black Pepper:
Current nutritional research shows that black pepper may have powerful antioxidant and anti-inflammatory properties.
Bonus: black pepper greatly enhances the body's ability to absorb turmeric!
Avocado Oil:
I like to use avocado oil not only because it's a healthy fat, but because it has a high smoke point of 500°F. Oils that have a lower smoke-point like olive oil (smoke point of 350°F) turn rancid when cooked above a certain temperature, which has in turn been linked to cancer. Therefore, use olive oil for colder dishes like dressings. Canola oil has a smoke point of 400° and contains omega-3s but has been linked to inflammation if heavily consumed.
Bonus: the healthy fat will help the body absorb a greater amount of the turmeric!
Mashed Potatoes:
Potatoes are a good source of vitamins and minerals, like vitamin C, potassium, and even calcium.
Additionally, some people with IBD may find that a low-fiber diet temporarily helps them during a flare, as reducing fiber can reduce stool content and GI symptoms. In this recipe, the potatoes are peeled, boiled until tender, and then mashed. This preparation process lowers the amount of fiber in the potato, making mashed potatoes acceptable on a low-fiber diet.
However please note: when you're feeling better after a flare, a trick to increase fiber is to simply leave the peels of the potatoes on when you make this recipe!
Onion:
Onions contain antioxidants and compounds that fight inflammation! Some people with IBD or reflux may find cooked onions, as presented in this recipe, easier to tolerate than raw onions.
If onions are a trigger food for you, you could easily leave the onions out.
Cumin:
Cumin is naturally a rich source in iron, contains many antioxidants, and may help fight inflammation!
Nutmeg:
Nutmeg naturally contains powerful antioxidants, as well as vitamins A and C, and has many anti-inflammatory properties.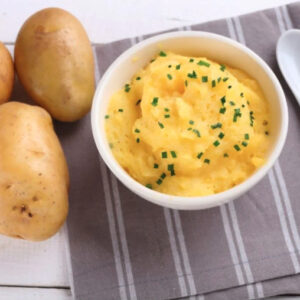 Moroccan Mashed Potatoes
Ingredients
4

large

potatoes

peeled for less fiber (calculated in nutrition analysis below), or unpeeled for more fiber

1.5

Tbsp

avocado oil

1/2

medium

onion

diced

1/2

Tbsp

ground turmeric

1

tsp

ground black pepper

1/2

tsp

salt

1/4

tsp

ground cumin

1

dash

nutmeg
Instructions
Place potatoes in a large pot and fill with enough water to cover.

Bring to a boil and cook until tender/can be pierced with a fork (about 20 minutes).

Meanwhile, place 1/2 Tbsp oil in a skillet and heat over medium-high heat.

Stir in the onion and cook until translucent and lightly browned, about 6 minutes.

Drain water from potatoes and mash.

Stir in onion and continue mashing.

Mix in spices and add remaining 1 Tbsp oil.
Nutrition
Serving:
0.5
cup
Calories:
80
kcal
Carbohydrates:
15.6
g
Protein:
1.7
g
Fat:
1.4
g
Saturated Fat:
0.2
g
Sodium:
77
mg
Potassium:
259
mg
Fiber:
1.5
g
Sugar:
0.8
g
Vitamin C:
5.8
mg
Calcium:
8.3
mg
Iron:
0.4
mg