Are you looking for a quick, dairy-free cookie recipe with anti-inflammatory ingredients? If so, then this recipe is for you! Packed with lots of nutrients, these vegan cookies can be an easy go-to dessert for a seasonal potluck.
Check out the nutritional benefits of the ingredients used in this recipe below:
Nutritional Benefits at a Glance:
Non-Dairy Milk
My husband with Crohn's disease is lactose intolerant, so I make this recipe using oat milk. If you'd prefer a lower carb, non-dairy milk that is easy to make at home, then almond milk might be the option for you. If you'd like greater depth to your plant-based milk, then hazelnut milk may be worth a try. This milk has both sweet and savory notes, and is creamy, too!
Please note: fortified non-dairy milks can be a good source of vitamins and minerals like calcium (meaning nutrients like calcium were added to a food that normally doesn't contain them), but if you choose to make a homemade non-dairy milk, it won't contain fortified vitamins and minerals.
Pumpkin Pie Spice
The secret ingredient for these cookies is Pumpkin Pie Spice. This delicate, warm spice blend is made of ginger, cinnamon, nutmeg, allspice, and cloves: all antioxidant powerhouses! Not only will these ingredients contribute to lowering inflammation, but pumpkin pie spice will add depth and elevate your recipe to a whole new level.
Pumpkin
Pumpkin is high in vitamins A and C, which can help boost your immune system. Its supply of vitamin E, iron, and folate may help strengthen your immunity as well. Pumpkin also contains the antioxidants alpha-carotene, beta-carotene, and beta-cryptoxanthin, which may protect your cells against damage by free radicals.
Chocolate Chips
Chocolate contains quite a few important minerals such as iron, magnesium, copper, and manganese. It also contains a few other minerals like potassium, phosphorous, zinc, and selenium. Additionally, cocoa contains a wide variety of powerful antioxidants.
Dark chocolate varieties usually contain smaller amounts of sugar than milk chocolates. But please note: if you're lactose intolerant, most dark chocolates still use milk products as ingredients. My husband with Crohn's is totally lactose intolerance, so I used Enjoy Life's Dark Chocolate Morsels because they do not contain dairy (I'm not paid or sponsored to mention this brand).
Molasses
Molasses contains several nutrients and is fairly high in minerals like manganese, magnesium, copper, vitamin B6, selenium, potassium, iron and calcium. Different types of molasses vary in color, consistency, flavor, and sugar content. People with diabetes should be aware that even though molasses is a natural sugar, it will still cause blood sugar levels to increase.
Brown Sugar
Because of its molasses content, brown sugar contains some minerals, including calcium, iron, potassium, and magnesium. But please note that these minerals are found in such small amounts that they don't contribute to a significant added health benefit. In this recipe, I used brown sugar for its richer flavor.
Coconut Oil
I use coconut oil as a substitute for butter in this recipe. While coconut oil is high in saturated fat, it is also high in medium-chain triglycerides (MCTs), which is a type of fat that the body metabolizes different than most other fats. If a person is experiencing malabsorption, MCTs may be easier to digest.
I recommend using extra virgin coconut oil if possible, because it comes from the fruit of fresh, mature coconuts and processing does not involve high temperatures or added chemicals. However, if you don't like the taste of a slight hint of coconut in baked goods, then refined coconut oil will have a neutral flavor. Also, it's worth checking the food label to avoid oil that contains partially hydrogenated coconut oil.
Flour
My husband is able to tolerate gluten and wheat, so I use all-purpose flour in this recipe. However, if you're unable to consume gluten, you could substitute it for a gluten-free flour.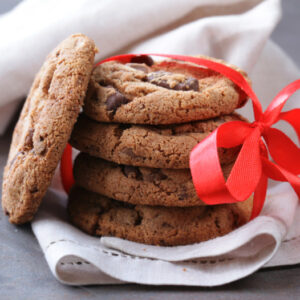 Gingerbread Chocolate Chip Cookies
These are hands down the tastiest gingerbread cookies I've ever eaten! Great texture, plenty of cozy fall-flavor, and with chocolate chips! The fact that they're vegan and have so many anti-inflammatory ingredients is icing on the cake (or should I say, icing on the cookie – hah)!
Equipment
oven

Large baking sheet

parchment paper

2 Large bowls

Handheld electric mixer
Ingredients
1/2

cup

coconut oil, solid

be sure it's not melted at all

3/4

cup

dark brown sugar, packed

1/2

cup

granulated sugar

2

tsp

vanilla extract

2

Tbsp

unsulphured molasses

2

Tbsp

non-dairy milk

oat milk used in nutrition analysis

1/3

cup

pumpkin puree

not pumpkin pie mix

2 1/4

cups

all-purpose flour, sifted

(for GF replacement, please see above notes)

1

tsp

baking soda

1

tsp

salt

2

tsp

Pumpkin Pie Spice

3/4

cup

mini semi-sweet chocolate chips

dairy-free (I used Enjoy Life brand)
Instructions
Preheat oven to 375°F. Line a large baking sheet with parchment paper; set aside.

In a large bowl using a handheld electric mixer, beat the coconut oil, both sugars, and vanilla on medium-speed until smooth; about 2 minutes.

Add in the molasses, oat milk, and pumpkin puree and beat on low speed until well combined.

In a separate bowl, combine the flour, baking soda, salt, and Pumpkin Pie Spice; whisk well to combine.

Add the dry ingredients into the wet mixture and, with the mixer on low speed, beat until ingredients are combined. The batter will be very thick! Fold in chocolate chips.

Scoop tablespoon-sized mounds of dough onto the prepared cookie sheet, leaving a few inches between each cookie. Bake for 9 to 10 minutes, or until the edges are golden and the centers are soft but set.

Cool cookies on the baking sheet for 30 minutes before transferring them to a cooling rack.
Notes
No Electric Mixer?
A stand mixer fitted with the paddle attachment also works!
For extra fancy cookies:
Save a handful of the chocolate chips and set aside. Press a few of the chocolate chips on top of each cookie right when the cookies come out of the oven.
Nutrition
Serving:
1
cookie
Calories:
90
kcal
Carbohydrates:
14.5
g
Protein:
1.2
g
Fat:
3.1
g
Saturated Fat:
2.5
g
Sodium:
59
mg
Potassium:
40
mg
Fiber:
0.3
g
Calcium:
10
mg
Iron:
0.5
mg