Not only did my lactose intolerant, picky-eater husband with Crohn's approve of the texture and flavor of these vegan cookies, but I also received glowing reviews from dinner guests without IBD, as well.
Check out the nutritional benefits of the ingredients used in this recipe below:
Nutritional Benefits at a Glance:
Applesauce:
In general, applesauce made without using apple skins is lower in fiber compared to whole apples, while still containing some of those good-for-you antioxidants and nutrients. Applesauce provides this recipe with optimal texture and moistness.
Please note: Many commercial applesauces are sweetened with added sugars, adding up to 15 additional grams of sugar to a serving of applesauce.
Additionally, watched out for terms like "sugar-free", "low in sugar", or "all-natural". These buzz-words may not ensure that your applesauce is free of added sugars. Finally, food companies often add artificial colors and flavorings to commercial applesauce.
I would recommend using an unsweetened applesauce in this recipe, with ingredients such as apples, water, and/or ascorbic acid (vitamin C). I used Mott's No Sugar Added Unsweetened Applesauce (but please note that I am not paid or sponsored to mention this brand).
Chocolate chips:
Chocolate contains quite a few important minerals such as iron, magnesium, copper, and manganese. It also contains a few other minerals like potassium, phosphorous, zinc, and selenium. Additionally, cocoa contains a wide variety of powerful antioxidants.
Dark chocolate varieties usually contain smaller amounts of sugar than milk chocolates. But please note: if you're lactose intolerant, most dark chocolates still use milk products as ingredients. My husband with Crohn's is totally lactose intolerance, so I used Enjoy Life's Dark Chocolate Morsels because they do not contain dairy (I'm not paid or sponsored to mention this brand).
Coconut oil:
I used coconut oil as a substitute for butter or shortening in this recipe. While coconut oil is high in saturated fat, it is also high in medium-chain triglycerides (MCTs), which is a type of fat that the body metabolizes different than most other fats. If a person is experiencing malabsorption, MCTs may be easier to digest.
I would recommend using extra virgin coconut oil, if possible, because it comes from the fruit of fresh, mature coconuts and processing does not involve high temperatures or added chemicals. Additionally, it's worth checking the food label to avoid oil that contains partially hydrogenated coconut oil.
Brown sugar:
Because of its molasses content, brown sugar contains some minerals, including calcium, iron, potassium, and magnesium. But please note that these minerals are found in such small amounts that they don't contribute to a significant added health benefit. In this recipe, I used brown sugar for its richer flavor.
Non-Dairy Milk:
My husband with Crohn's disease is lactose intolerant, so I chose to make this recipe using oat milk (the creamiest of the non-dairy milks). Any milk will work in this recipe though! If you'd prefer a higher-protein non-dairy milk, soy may be a food option. If you'd like a lower carb non-dairy milk that is easy to make at home, then almond milk may be the option for you. Note: fortified non-dairy milks can be a good source of vitamins and minerals like calcium (meaning nutrients like calcium were added to a food that normally doesn't contain them), but if you choose to make a homemade non-dairy milk, it won't contain fortified vitamins and minerals.
Flour:
My husband is able to tolerate gluten and wheat, so I used all purpose flour in this recipe. However, if you're unable to consume gluten, you could substitute it for a gluten-free flour.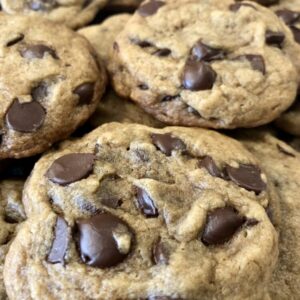 Vegan Chocolate Chip Cookies
These cookies are dairy-free and contain applesauce!
Ingredients
1/2

cup

coconut oil

1 1/4

cups

brown sugar

packed

2

tsp

vanilla extract

1/4

cup

oat milk

or plant-based milk of choice

1/4

cup

unsweetened applesauce

1 1/3

cup

enriched all-purpose flour

sifted

1

tsp

baking soda

1

tsp

salt

1 1/2

cups

chocolate chips

type and brand of choice
Instructions
Line a large baking sheet with parchment paper; set aside.

In a large bowl, whisk together the coconut oil, brown sugar, and vanilla, beating until well combined.

Add in the oat milk and applesauce and whisk until well combined; set aside.

In a separate bowl, combine the flour, baking soda, and salt. Whisk well to combine.

Add the dry ingredients into the wet mixture. Stir ingredients until combined using a wooden spoon or very study spatula.

Scoop cookie dough onto the prepared cooking sheet, leaving at least an inch in between cookies for spreading.

Bake for 9-10 minutes, or until the cookie edges are golden and the centers have set.

Cool cookies on the baking sheet for 15 minutes before transferring them to a cooling rack.
Notes
This batter will be very thick! If the dough appears too sticky, add a little more flour, one tablespoon at a time. If the dough appears too dry, add a tablespoon of the oat milk.
Nutrition
Serving:
1
cookie
Calories:
137
kcal
Carbohydrates:
18.8
g
Protein:
1.3
g
Fat:
8
g
Saturated Fat:
5.4
g
Sodium:
79.1
mg
Potassium:
23
mg
Fiber:
1.7
g
Sugar:
12.3
g
Calcium:
10.8
mg
Iron:
0.3
mg