This gluten-free turkey meatball recipe is tailored with Crohn's and colitis in mind, combining both flavor and nutritional benefits.
For those navigating the challenges of Inflammatory Bowel Disease (IBD), food choices play a crucial role in meeting nutritional needs, managing symptoms, and keeping inflammation at bay. It's essential to find recipes that not only taste good but are also gentle on the digestive system.
Why Choose This Recipe for IBD?
People with IBD often need a diet that minimizes inflammation and is easily digestible. Here are the key helpful components of the recipe for people with Crohn's or colitis:
Increased Protein: During a flare-up, the demand for protein may increase due to increased levels of inflammation. Each serving of this recipe provides 22 grams of protein. Fresh lean ground turkey is an ideal protein choice because it has lower total and saturated fat content compared to other animal proteins. This makes it more easily digestible and less inflammatory.
Low Sugar: The orange glaze introduces a hint of sweetness without being too high in concentrated sugar, which could make loose stools worse.
Vitamin C: The orange glaze also adds a significant amount of vitamin C to the recipe, with each serving offering 19mg (or 21% of the daily recommended value).
Low-Fiber: This recipe contains less than 1 gram of dietary fiber per serving, catering to those advised to follow a low-fiber diet by their IBD healthcare team.
Nutritional Benefits of Key Ingredients
For people with IBD, the right dietary choices can make a big difference in managing symptoms and supporting gut health. Let's explore the specific nutritional benefits of the ingredients used in this recipe for those navigating IBD.
Ground Turkey Benefits
Ground turkey is a lean source of protein, vital for tissue repair, bolstering the immune system, and more. It also offers essential vitamins and minerals that help counteract common nutrient deficiencies seen in IBD, such as:
Vitamin B12: This recipe provides 1.4 micrograms, or 58% of the daily value.
Zinc: This recipe offers 3 milligrams, which is 27% of the daily value.
Iron: This recipe contributes 1 milligram, accounting for 7% of the daily value.
Cilantro Benefits
Rich in vitamins A, K, and E, cilantro is also abundant in antioxidants that may help reduce inflammation by fighting free radicals, the molecules known to promote inflammation.
White Onion Benefits
Onions contain several vitamins and minerals, including vitamin C, folate, vitamin B6, and potassium, which provide several benefits. They're also a good source of prebiotics and antioxidants.
Please note: onion can be omitted from this recipe if it triggers symptoms.
Garlic Benefits
Garlic contains several nutrients, including manganese, vitamin B6, vitamin C, and selenium. It also contains antioxidants and has anti-inflammatory properties.
Please note: garlic can be omitted from this recipe if it triggers symptoms.
Orange Juice Benefits
Orange juice is rich in micronutrients such as vitamin C, folate, and potassium. It may also help reduce inflammatory markers linked to chronic diseases, including CRP and IL-6.
If opting to buy orange juice instead of squeezing it fresh, choose options that are not from concentrate. Juices from concentrate tend to be more processed and might contain added sugars or preservatives, which can be detrimental for those with IBD.
Lime Juice Benefits
Limes are rich in vitamin C and a good source of antioxidants, both of which offer health benefits for IBD.
Honey Benefits
While honey is primarily composed of sugar, it's worth noting that it contains a number of antioxidants and is rich in health-promoting plant compounds called polyphenols.
Avocado Oil Benefits
Avocado oil boasts a high content of oleic acid, a monounsaturated fat recognized for its anti-inflammatory benefits. Additionally, it is packed with antioxidants and other health-promoting compounds such as lutein, carotenoids, tocopherols (a form of vitamin E), and plant sterols.
How to Make Gluten-Free Air Fryer Turkey Meatballs with an Orange Glaze
Combine ground turkey, cilantro, onion, garlic, and salt to form meatballs, then air fry at 400ºF for 8-10 minutes. Simultaneously, simmer orange juice, lime juice, and honey in a skillet until the sauce thickens. Drizzle the orange glaze over the meatballs, garnish with cilantro, and serve.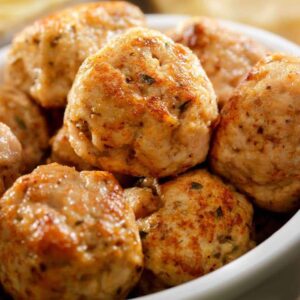 Gluten-Free Air Fryer Turkey Meatballs with an Orange Glaze
Ingredients
12

oz

Extra Lean Ground Turkey

2

Tbsp

Cilantro

chopped, plus extra for garnish

1/3

small

White Onion

diced

2

cloves

Garlic

minced

1/4

tsp

Sea Salt

1/3

cup

Orange Juice

not from concentrate

2

Tbsp

Lime Juice

approximately the juice of 1 medium lime

1 1/2

tsp

Pure Honey

1/16

oz

Avocado Oil Spray

equal to a one-second spray
Instructions
Preheat the air fryer to 400ºF (205ºC).

Combine the ground turkey, cilantro, white onion, garlic, and salt in a bowl. Roll the mixture into 1 1/2-inch balls.

Transfer the meatballs to the air fryer in a single layer. Work in batches if needed. Spray with oil and bake for eight to ten minutes, shaking halfway through, until cooked.

Meanwhile, combine the orange juice, lime juice, and honey. Add the mixture to a skillet and simmer for five to six minutes or until the sauce thickens.

Top meatballs with glaze and cilantro, divide evenly between plates, and enjoy!
Notes
Leftovers
Refrigerate in an airtight container for up to three days. Serving Size
One serving is equal to approximately four meatballs. Avocado Oil Spray
One gram (or 1/16 oz) of avocado oil spray is equal to a one-second spray. More Flavor
Add tarragon or mint to the meatballs. Additional Toppings
Green onion or chopped cashews.
Nutrition
Serving:
1
Serving
Calories:
202
kcal
Carbohydrates:
8
g
Protein:
22
g
Fat:
10
g
Saturated Fat:
2
g
Polyunsaturated Fat:
3
g
Monounsaturated Fat:
3
g
Cholesterol:
84
mg
Sodium:
276
mg
Potassium:
337
mg
Sugar:
6
g
Vitamin A:
188
IU
Vitamin C:
19
mg
Calcium:
35
mg
Iron:
1
mg
Take Home Message
In conclusion, this air fryer turkey meatball recipe provides a delightful and nutritious meal suitable for those with IBD. Each ingredient was chosen for both its flavor and potential health benefits, ensuring a delicious dish that's also kind to the digestive system. Enjoy your meal knowing you're nourishing your body with IBD-friendly ingredients!
Looking for more IBD-Friendly Recipes?
Here some recipes for inspiration: