Inflammation is thought to underlie most chronic health conditions, including IBD. Why do we care about inflammation anyways? Basically, more inflammation correlates with worse symptoms from your IBD. If a part of the body's inflamed, like the gut, it's going have a harder time doing its job right.
Check out the ingredients used in this recipe below to see how it jam packs anti-inflammatory nutrients into a delicious treat!
Nutritional Benefits at a Glance:
Blueberries:
Blueberries are believed to have one of the highest antioxidant levels of all common fruits and vegetables. The main antioxidant compounds in blueberries belong to a family of polyphenols antioxidants called flavonoids. One group of flavonoids in particular — anthocyanins — is thought to be responsible for much of these berries' beneficial health effects.
Wild blueberries are frozen fresh and loaded with 33% more brain-healthy anthocyanins than ordinary blueberries. Their smaller size means twice the berries – and twice the antioxidants – in every bite.
Lemon Juice and Zest:
Lemons are an excellent source of vitamin C and flavonoids, which are antioxidants. Antioxidants help remove free radicals that can damage cells of the body. These nutrients can help prevent diseases and boost health and wellbeing.
Coconut Sugar:
Coconut sugar contains small amounts of minerals (iron, zinc, calcium, and potassium) as well as some antioxidants.
Please note: People with diabetes should be aware that even though coconut sugar is a natural sugar and has a lower glycemic index than regular table sugar, it will still cause blood sugar levels to increase.
Honey:
Honey may be easier to digest for those with IBD. Honey is also being recognized as a potential prebiotic, since it can promote the growth of two types of "good" bacteria in the gut, lactobacilli and bifidobacteria. It also has antiomicrobial properties that can work together with probiotics against certain pathogens. Finally, honey has a lower glycemic index than regular table sugar.
Please note: Too much honey may not be recommended during times of diarrhea due to the high fructose content (which can cause more diarrhea). Additionally, people with diabetes should be aware that even though honey is a natural sugar and has a lower glycemic index than regular table sugar, it will still cause blood sugar levels to increase.
Non-Dairy Milk:
My husband with Crohn's disease is lactose intolerant, so I chose to make this recipe using oat milk (the creamiest of the non-dairy milks). Any milk will work in this recipe though! If you'd prefer a higher-protein non-dairy milk, soy may be a food option. If you'd like a lower carb non-dairy milk that is easy to make at home, then almond milk may be the option for you. Note: fortified non-dairy milks can be a good source of vitamin B12 and calcium (meaning those nutrients were added to a food that normally doesn't contain those nutrients), but if you choose to make a homemade non-dairy milk, it won't contain those fortified vitamins and minerals.
Egg:
Fun-fact: Did you know that eggs from hens that were fed omega-3 enriched feeds tend to be much higher in omega-3 fatty acids. Omega-3s have been linked to lowering inflammation in IBD, so why not use an omega-3 egg in this recipe? Every little bit of omega-3 helps in my book!
Eggs are also among the best dietary sources of choline, a nutrient that is incredibly important for our cells and brains. They also contain antioxidants that are important for eye health.
Wondering why eggs got a bad rap in the past? Eggs were tied to cholesterol issues. BUT, while eggs are high in cholesterol, eating eggs does not raise "bad" cholesterol levels in the blood for the majority of people (70% of people are fine, while the other 30% of people may see mild raises in total and LDL cholesterol).
Flour:
My husband is able to tolerate gluten and wheat, so I used all purpose flour in this recipe. however, if you're unable to consume gluten, gluten-free flours can easily be substituted in this recipe at a 1:1 ratio!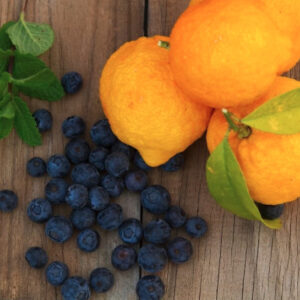 Blueberry Lemon Cookies
Equipment
oven

microplane

parchment paper

hand or stand mixer
Ingredients
2 1/4

cups

AP flour

can be substituted for gluten free flour

3/4

tsp

baking soda

1/4

tsp

salt

1/3

cup

coconut sugar

1/3

cup

honey

1

large

egg

1

tsp

vanilla

6

Tbsp

coconut oil

melted

1/4

cup

lemon juice

1

cup

frozen blueberries

1/8

cup

extra frozen blueberries

1/2

cup

powdered sugar

1

Tbsp

non-dairy milk

such as oat milk, almond milk, cashew milk, or soy milk

1

tsp

lemon zest
Instructions
Finely zest two lemons using a microplane.

In a large bowl, mix together flour, baking soda, and salt.

In a separate large bowl, add 1 cup of frozen blueberries.

Either in the microwave or on the stovetop, thaw the frozen blueberries until they're soft and jammy. (In the microwave this should take about 30 seconds over high heat, and on the stovetop it should take about 2-3 minutes on medium heat.)

Let the blueberries cool for about 2-3 minutes.

Add coconut sugar, honey, egg, vanilla, coconut oil, and lemon juice to the thawed blueberry mixture.

Mix at a high speed. You want to "mash" the blueberries into the mixture, making it so that they are puréed and fully combined with the other ingredients. The mixture should be a deep purple color.

Add dry ingredients to wet ingredients and mix until well combined.

Line a large baking sheet with parchment paper.

Scoop out 2-Tablespoons worth of batter and place onto the baking sheet. Repeat with remaining cookie dough, making sure they are all at least 2-inches apart.

Place 2-3 additional blueberries on the surface of the cookie dough balls.

Bake cookies in a preheated oven for 13-15 minutes, or until the edges are slightly golden.

While the cookies are baking, whisk together the lemon glaze ingredients in a small bowl (powdered sugar, non-dairy milk, and lemon zest).

Once cookies have cooled to room temperature, drizzle lemon glaze over each one.
Nutrition
Serving:
1
cookie
Calories:
150
kcal
Carbohydrates:
25
g
Protein:
2.3
g
Fat:
5.2
g
Saturated Fat:
4.1
g
Cholesterol:
10.4
mg
Sodium:
89
mg
Potassium:
50
mg
Fiber:
0.7
g
Sugar:
12.4
g
Vitamin C:
5.3
mg
Calcium:
17.2
mg
Iron:
0.8
mg