Crohn's disease-friendly, ulcerative colitis-friendly, SCD diet-friendly, vegetarian-friendly
This simple dessert recipe is a staple in my home. My husband has quite a few dietary limitations due to his Crohn's disease, so having a recipe with only a few ingredients is a must. Not only will this recipe satisfy a sweet tooth, but it's super quick and easy. In literally 6 minutes, you can create a fun and tasty dessert!
Nutritional Benefits at a Glance
– Avocados are a good source of healthy fats, as well as folate, magnesium, potassium, vitamins B2, B3, B5, B6, C, E, and K.
– Bananas are a good source of potassium, magnesium, copper, manganese, vitamins B6, and C.
–       Honey can be easier to digest for those with gut-related autoimmune diseases
People who need to follow a low-fiber diet should be aware that avocados and bananas contain some dietary fiber.
Additionally, people with diabetes should be aware that even though honey is a natural sugar, it will still cause blood sugar levels to increase.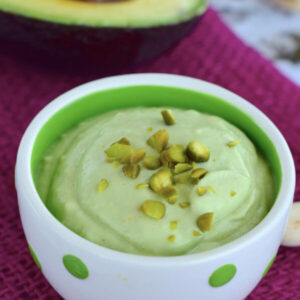 Avocado Pudding
This quick, easy, and healthful dessert has just four ingredients!
Equipment
food processor or high-speed blender
Ingredients
2

large avocados

4

tsp

vanilla extract

2

medium bananas

preferably ripe with spots

2

Tbsp

honey
Instructions
Blend ingredients together.
Notes
Enjoy immediately after blending for optimal green color (avocados naturally oxidize when exposed to air, reducing green color).
Tangerine slices were added to photo for a pop of color. Note that adding tangerine slices will add additional fiber to recipe.