Kick-start your day with our naturally sweetened, invigorating Pineapple Ginger Smoothie!
Teeming with health-enhancing ingredients like freshly peeled ginger root and ground flax seed, this smoothie is your perfect ally in combating inflammation. But before we delve into the recipe, let's answer some frequently asked questions.
Can You Put Ginger in a Smoothie?
Indeed! Incorporating ginger into smoothies not only lends a dynamic flavor but also amplifies the health benefits, like increasing anti-inflammatory compounds as well as relieving nausea.
What Benefits do Pineapple and Ginger Provide?
Both these ingredients are powerhouses of nutrition!
Pineapple is rich in Bromelain, an enzyme recognized for its notable anti-inflammatory attributes.
Ginger, too, is a robust antioxidant and an anti-inflammatory superstar. In fresh ginger, gingerols are the major polyphenols.
Do Pineapple and Ginger Boost Energy?
Absolutely! They are brimming with natural sugars and essential nutrients that work together to enhance your energy levels.
How this Pineapple Ginger Smoothie Benefits Individuals with IBD
Inflammatory Bowel Disease (IBD) refers to chronic conditions like Crohn's disease and ulcerative colitis, which involve enduring inflammation of the digestive tract. Diet plays a pivotal role in managing IBD symptoms and preventing flare-ups. Here are 5 reasons why our Anti-Inflammatory Pineapple Ginger Smoothie can be a valuable addition to an IBD-friendly diet.
1. Anti-inflammatory Ingredients
Both pineapple and ginger are known for their anti-inflammatory properties, which can potentially reduce inflammation in the gut. While pineapple is packed with Bromelain – an enzyme mixture renowned for its diverse therapeutic properties, particularly anti-inflammatory action – ginger is celebrated for its robust anti-inflammatory and antioxidant properties.
2. Easy Digestibility
The ingredients chosen for this smoothie are generally gentle on the digestive system. The blending process helps to break down some of the fibrous tissues, facilitating easier digestion and nutrient absorption without triggering IBD symptoms.
3. Hydration
Hydration is essential for individuals with IBD, and this smoothie contributes to your daily fluid intake. Using water instead of other plant-based milks keeps the recipe light, easy-to-digest, and hydrating.
4. Emulsifier-Free
Another reason for opting for water instead of almond milk or other plant-based alternatives is that these beverages commonly contain emulsifier food additive ingredients, like gums. These food additives have been linked to altering the gut microbiome in a negative way, potentially promoting inflammation and triggering disease activity in IBD.
5. Nutrient Density
Due to factors like reduced appetite and nutrient absorption, as well as anxiety around eating, IBD can sometimes lead to malnutrition. This smoothie, however, is abundant in essential nutrients such as Vitamins A, C, and K, iron, and potassium, all crucial for maintaining overall health and wellness.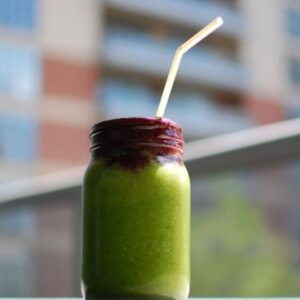 Anti-Inflammatory Pineapple Ginger Smoothie
Ingredients
3/4

cup

Pineapple

diced

1

Tbsp

Ground Flax Seed

1 1/2

tsp

Ginger

peeled and grated

2

cups

Baby Spinach

1/2

cup

Water

4

Ice Cubes

1/4

cup

Blueberries
Instructions
Place all ingredients EXCEPT blueberries into the blender. Blend for a minute or until smooth.

Pour 3/4 of the mix into a glass (or a mason jar if you are on-the-go), leaving some space at the top.

Add blueberries to leftover mix and blend again for about 30 seconds. Spoon the blueberry mix on top of the green mix. Enjoy.
Nutrition
Serving:
1
Serving
Calories:
134
kcal
Carbohydrates:
26
g
Protein:
4
g
Fat:
3
g
Polyunsaturated Fat:
2
g
Monounsaturated Fat:
1
g
Sodium:
52
mg
Potassium:
511
mg
Fiber:
6
g
Sugar:
16
g
Vitamin A:
5718
IU
Vitamin C:
80
mg
Calcium:
100
mg
Iron:
2
mg
If you'd like to explore more anti-inflammatory foods and how they can boost your overall health, download our Free Anti-Inflammatory/Inflammatory Foods Guide. This guide is a must-have for anyone looking to bolster their diet with healthful, inflammation-fighting foods.
Remember, people with IBD are unique, and what works for one person might not work for another. It's always recommended to consult with your IBD dietitian and healthcare team before implementing significant changes to your diet, especially if you are diagnosed with a medical condition like IBD.
Happy blending and healthy eating!