Equally delicious and simple to make, this 10 Minute Stovetop Peach Crisp with Canned Peaches is the perfect recipe for a sweet breakfast, snack, or dessert year-round.
With only 5 ingredients that are rich in nutrients, this easy peach crisp with canned peaches is a great option for various dietary restrictions. Especially suitable for people with inflammatory bowel disease (IBD), this recipe is free of several common IBD food triggers listed below.
10 Dietary Restrictions Accommodated by this Recipe:
Dairy-free
Gluten-free
Egg-free
Soy-free
Nut-free
Corn-free
Legume-free
Nightshade-free
Vegan and Vegetarian
Kosher
Are Canned Peaches Good for You?
Rest assured, canned peaches are just as nutritious as fresh peaches! Most canned produce is processed directly after harvest, which preserves its nutritional value at peak ripeness.
Canned peaches in 100% juice are recommended for individuals with inflammatory bowel disease (IBD). This helps to decrease intake of added sugars and sugar substitutes, which may worsen IBD symptoms.
Using Canned Peaches vs. Fresh Peaches
Opting for canned peaches in 100% juice provides some benefits over fresh peaches:
Canned peaches can be more accessible than fresh. Canned versions are shelf-stable, making year-round use of the seasonal fruit a possibility. They are often more affordable as well.
Canned peaches are easier to digest. The fruit comes peeled and cooked when canned, creating a softer texture that is gentle on the gut and IBD flare-friendly.
Canned peaches are convenient since they're pre-washed, peeled, and sometimes already sliced. This makes them easier to use and consume, like in this peach crisp from canned peaches recipe.
Benefits of Peaches for Inflammatory Bowel Disease (IBD)
Peaches are an excellent food for people with Crohn's or colitis. Their high water content aids in hydration, which is essential for IBD warriors to maintain during a flare or with diarrhea.
They are also a great source of vitamins C and A, potassium, and contain some fiber. These nutrients provide anti-inflammatory effects, which are important for managing the inflammation associated with IBD.
Nutritional Benefits at a Glance
1. Oats
Oats are a nutritious whole grain rich in soluble fiber, which is gentle on the gut and helps to firm loose stool. Oats are also rich in:
iron

zinc
magnesium
calcium
selenium
B vitamins, which are especially important nutrients to consider with IBD.
Please note that oat brands labeled "gluten-free" are recommended for IBD warriors with gluten intolerance or sensitivity.
2. Peaches
Peaches are rich sources of antioxidants, vitamins, minerals, and contain some fiber. These stone fruits are also hydrating and a nutritious source of energy-boosting carbohydrates. Given these benefits, these fruits are an IBD-friendly fruit choice to consider including in your diet and in recipes such as this peach crumble with oats.
3. Cinnamon
Cinnamon is loaded with antioxidants which are responsible for its powerful anti-inflammatory properties. As a result, this spice is a great addition to add into the eating plans of IBD warriors.
4. Coconut Oil
Coconut oil is a good source of medium-chain triglycerides, or MCTs, a type of dietary fat. MCTs may be digested better than other fats for people with malabsorption, due to MCT's rapid absorption. Although this oil is high in saturated fat, it can be included in small amounts as part of an overall healthful diet for IBD.
5. Maple Syrup
While maple syrup is high in sugar, it does contain some iron, potassium, calcium, and manganese. For those with IBD, choosing 100% pure maple syrup is recommended. This is because imitation maple syrups typically contain high-fructose corn syrup, which can worsen IBD symptoms. If you are in a flare or limiting your sugar intake to manage your symptoms, you may wish to omit the maple syrup from this recipe.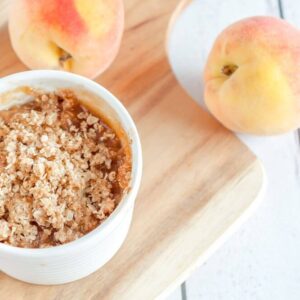 10 Minute Stovetop Peach Crisp with Canned Peaches
Equally delicious and simple to make, this 10 Minute Stovetop Peach Crisp with Canned Peaches is the perfect recipe for a sweet breakfast, snack, or dessert year-round.
Ingredients
2

Tbsp

Coconut Oil

divided

2

Tbsp

Maple Syrup

divided

1/2

cup

Oats

1/4

tsp

Cinnamon

1

cup

Canned Peaches

in 100% juice, sliced, drained
Instructions
Melt half the coconut oil and half the maple syrup together in a skillet. Add the oats and cinnamon and toast for four minutes, stirring constantly. Once oats are toasted, remove and set aside.

Melt the remaining oil and maple syrup in the same skillet over medium heat. Add the peaches and cook for four minutes stirring frequently. Divide evenly between bowls and top with the oat mixture. Enjoy!
Notes
Leftovers

Refrigerate in an airtight container for up to two days.

Additional Toppings

Serve with chopped almonds, whipped cream, honey, and/or ice cream.
Nutrition
Serving:
1
Serving
Calories:
280
kcal
Carbohydrates:
35
g
Protein:
3
g
Fat:
15
g
Saturated Fat:
11
g
Polyunsaturated Fat:
1
g
Monounsaturated Fat:
1
g
Sodium:
7
mg
Potassium:
238
mg
Fiber:
4
g
Sugar:
18
g
Vitamin A:
650
IU
Vitamin C:
4
mg
Calcium:
37
mg
Iron:
1
mg
Take Home Message
This simple and delicious peach crisp recipe with canned peaches makes 2 servings. Share with a friend or save any leftovers for later!
Looking for more quick IBD-friendly recipes?
Happy and healthy eating!