This pan seared Chilean sea bass is delicious and easy to make. It is loaded with anti-inflammatory omega-3s, antioxidants, and has tremendous flavor in every bite.
If you're looking for a simple way to enjoy Chilean sea bass, this is it! This recipe is low-fiber, gluten-free, dairy-free, nut-free, and is friendly for the Specific Carbohydrate Diet (SCD Diet), Paleo, Mediterranean, Pescatarian, and Low-FODMAP Diets. Plus, it only takes 10 minutes to make! Check out the nutritional benefits of the ingredients used in this recipe below.
Chilean Sea Bass Nutrition
This fish is packed with protein and is a great source of omega-3 fatty acids, which may provide an anti-inflammatory effect for people with IBD.
Chilean Sea Bass Nutrition Facts
Per 3oz serving of sea bass you will get:
18 grams of protein
2 grams of EPA + DHA omega-3 fatty acids
310 milligrams of potassium (9% of recommended daily value)
0 grams of carbohydrate
0 grams of fiber
Mercury in Chilean Sea Bass
However, please note that Chilean Sea Bass has moderately high levels of mercury. The Environmental Defense Fund recommends adults consume only two portions of Chilean sea bass each month and children only eat one portion each month due to the concerning levels of mercury.
When possible, look for the blue eco-label of the Marine Stewardship Council (MSC) for certified sustainable Chilean seabass products.
Things to Consider When Buying Chilean Sea Bass
Here are tips for buying eco-conscious Chilean sea bass:
Eco-Best: Look for options from Heard and McDonald, the Falkland, or Macquarie.
Eco-OK: Options from the Ross Sea, South Georgia, or Kerguelen.
What is the Best Cooking Technique for Sea Bass?
I prefer to pan-sear sea bass as a simple but delicious cooking method. It only takes a few minutes and creates a great texture when cooking.
How to Pan Sear Sea Bass
Place fish skin side down on hot pan.Once your fish goes down in the pan don't move it until it is time to flip. This fish is very tender and flaky, so moving it around might break the fillet in half and lose it's visual appeal.
Cook for approximately 2-3 more minutes. When it's done, the fillet will be white with reduced transparency and will flake easily with a fork.
Should You Keep the Skin on When Cooking?
For this pan-seared recipe, leaving the skin on the fillets during cooking result in a perfect crispy and textural contrast to the soft meat of the fish. The cooked fish can be eaten with or without the skin. If preferred, serve fish without skin by removing the skin after cooking. Done in a hot pan, it generally separates from the flesh easily.
Prefer an Alternative to Chilean Sea Bass?
Sablefish offers the same "silken richness" and texture that Chilean sea bass has and has even higher levels of omega-3s. Like Chilean sea bass, sablefish is forgiving when cooked, making it a good choice for novice cooks. It also allows for the exterior to gain a delightfully crisped coloration while the inside remains perfectly smooth.
Avocado Oil Cooking Benefits
I like to use avocado oil because it is a high smoke-point oil. Medium stove heat is used to pan-sear the fish, which typically ranges between 300-400°F. I like to use avocado oil not only because it's a healthy and anti-inflammatory fat, but also because it has a high smoke point of 500°F.
Oils that have a lower smoke-point like olive oil (smoke point of 350°F) turn rancid when cooked above a certain temperature, which has been linked to cancer.
Canola oil has a smoke point of 400° and contains omega-3s but has been linked to inflammation if heavily consumed.
How to Make Capers Crispy
Crisping up capers is a bit more work than opening up a jar, but it's so worth it! Start by draining the capers and dry them well, using paper towels to pat them down. The drier they are, the crispier they'll become.
Next, heat your oil in the pan, add capers, and cook until crispy, about 2 or 3 minutes. Remove capers from the oil with a slotted spoon or skimmer and let drain on a lined sheet pan or paper towels.
Capers Nutrition
Capers are widely used as a seasoning and garnish in Mediterranean cuisine and are rich in antioxidants, which may reduce inflammation. They also contain small amounts of vitamin K and copper, two essential nutrients.
Other Nutrition Benefits of This Pan Seared Sea Bass
Chives are high in beneficial nutrients, including vitamins (like vitamin K and folate), minerals, and antioxidants.
Lemons are an excellent source of vitamin C and flavonoids, which are antioxidants. Antioxidants help remove free radicals that can damage cells of the body. These nutrients can help prevent diseases and boost health and wellbeing.
What to Serve with Chilean Sea Bass
This entrée will pair nicely with: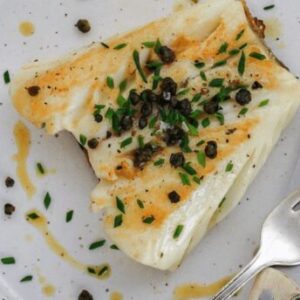 Pan Seared Chilean Sea Bass with Crispy Capers
Ingredients
14

oz

Chilean Sea Bass Fillet

keep the skin on

1/4

tsp

Sea Salt

2

tsp

Avocado Oil

divided

2

tsp

Capers

drained, patted dry

2

tsp

Chives

chopped

2

tsp

Lemon Juice
Instructions
Pat the sea bass dry and score the back of the skin about 4 to 5 times to prevent the skin from curling up when cooking. Season with salt.

In a skillet over medium heat, add half the oil and then add the dried capers. Cook until crispy, about 2 to 3 minutes. Remove and set aside.

In the same skillet, over medium heat, add the remaining oil and then add the sea bass skin side down. Cook for 3 to 4 minutes, then flip and cook for an additional 1 to 2 minutes or until cooked through.

Plate the sea bass and top with the capers, chives and lemon juice. Enjoy!
Notes
Leftovers
Refrigerate in an airtight container for up to two days.
Nutrition
Serving:
1
serving
Calories:
234
kcal
Carbohydrates:
1
g
Protein:
37
g
Fat:
9
g
Saturated Fat:
2
g
Polyunsaturated Fat:
2
g
Monounsaturated Fat:
4
g
Cholesterol:
81
mg
Sodium:
497
mg
Potassium:
517
mg
Vitamin A:
353
IU
Vitamin C:
3
mg
Calcium:
22
mg
Iron:
1
mg