Are you looking for a quick and simple smoothie with anti-inflammatory ingredients? If so, then this recipe is for you! Packed with lots of nutrients, this smoothie can be a great addition to breakfast or a mid-afternoon snack.
Check out the nutritional benefits of the ingredients used in this recipe below:
Nutritional Benefits at a Glance:
Non-Dairy Milk:
My husband with Crohn's disease is lactose intolerant, so I make this recipe using oat milk. If you'd prefer a lower carb, non-dairy milk that is easy to make at home, then almond milk might be the option for you. If you'd like greater depth to your plant-based milk, then hazelnut milk may be worth a try. This milk has both sweet and savory notes, and is creamy, too!
Please note: fortified non-dairy milks can be a good source of vitamins and minerals like calcium (meaning nutrients like calcium were added to a food that normally doesn't contain them), but if you choose to make a homemade non-dairy milk, it won't contain fortified vitamins and minerals.
Pumpkin Pie Spice
The secret ingredient for this smoothie is the anti-inflammatory pumpkin pie spice. Not only will this ingredient contribute to lowering inflammation, but this spice blend will add depth and elevate your recipe to a whole new level.
Honey:
Honey may be easier to digest for those with IBD. Honey is also being recognized as a potential prebiotic, since it can promote the growth of two types of "good" bacteria in the gut, lactobacilli and bifidobacteria. It also has antiomicrobial properties that can work together with probiotics against certain pathogens. Finally, honey has a lower glycemic index than regular table sugar.
Please note: Too much honey may not be recommended during episodes of diarrhea due to the high fructose content (which can cause more gastric distress). Additionally, people with diabetes should be aware that even though honey is a natural sugar and has a lower glycemic index than regular table sugar, it will still cause blood sugar levels to increase.
Bananas:
Bananas are a good source of vitamins and minerals such as potassium, magnesium, copper, manganese, vitamin B6, and vitamin C. Ripe bananas (with spots) are recommended for this recipe, not only for their sweeter flavor, but because they may be easier to tolerate by people with IBD than less ripe bananas.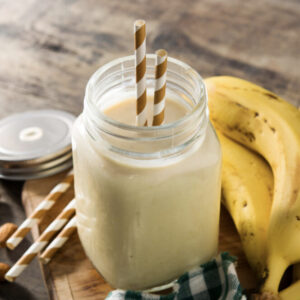 Spiced Banana Almond Milk Smoothie
This is a delicious smoothie for breakfast on the go or as a mid-day snack. Packed with lots of nutrients and will give you a boost of energy.
Ingredients
4

cups

unsweetened almond milk

preferably with only almonds & water

1

medium

banana

preferably with spots

2

Tbsp

honey

1

tsp

Pumpkin Pie Spice
Instructions
Place all ingredients into a blender and mix well.
Notes
Storage
Keeps for 1 – 2 days but mix well if it has been sitting.
Nutrition
Serving:
4
servings
Calories:
95
kcal
Carbohydrates:
24.9
g
Protein:
2
g
Fat:
4.3
g
Sodium:
87
mg
Potassium:
163
mg
Fiber:
0.7
g
Vitamin C:
0.5
mg
Iron:
0.7
mg