Refresh your mornings or energize your afternoons with our Pineapple Cucumber Ginger Smoothie. Not only is it delicious, but it's also crafted to promote gut health, especially for those battling with IBD.
Pineapple, cucumber, and ginger are a sought-after combination in the world of health drinks. The harmonious blend of the tropical sweetness of pineapple, the refreshing crunch of cucumber, and the zingy kick of ginger makes it a palate pleaser. Furthermore, each of these ingredients boasts its own set of health benefits, from aiding digestion to offering anti-inflammatory properties. While this trio is particularly refreshing in the warmer months, the great news is that it can be enjoyed year-round. By freezing the ingredients when they're at peak freshness, you can capture their vibrant flavors and nutritional benefits, ensuring a consistent taste every time.
Plus, this smoothie fits within numerous dietary restrictions, making it a versatile choice for many health-conscious individuals.
Nutritional Benefits of Main Ingredients for Gut Health and IBD
There are 5 key ingredients in this recipe that were specifically chosen to support gut health and reduce inflammation. Here is a closer look at each one and the nutrition benefits they provide.
Pineapple
Rich in vitamin C, manganese, and other essential nutrients, pineapples come packed with antioxidants such as flavonoids. Notably, the bromelain enzyme in pineapples can boost immunity and reduce inflammation.
Baby Spinach
Loaded with vitamins like K and C, minerals such as calcium and iron, baby spinach also contains anti-inflammatory antioxidants that can aid gut health.
Cucumber
Beyond its refreshing crunch, cucumbers are a hydration powerhouse, holding about 96% water. They also come filled with antioxidants that combat harmful free radicals.
Fresh Lemon Juice
Lemons are high in vitamin C, which acts as an antioxidant, shielding cells from free radicals and bolstering the immune system.
Ginger
A flavor enhancer with health benefits, ginger contains gingerol, known for its anti-inflammatory and antioxidant properties. It may also help relieve nausea.
Compliance with Diverse Eating Patterns
Beyond the health benefits already highlighted, this smoothie is suitable for individuals following these dietary patterns:
Dairy-Free
Gluten-Free
Grain-Free
Kosher
Low FODMAP
Mediterranean Diet
Nut-Free
Paleo Diet
Soy-Free
Vegan
Vegetarian
What Does Blending Cucumber and Pineapple Do for Your Body?
When cucumber and pineapple are blended together, they create a synergistic effect that provides more than just a refreshing taste; they become a powerful agent for digestive wellness.
The blending process essentially does the work of chewing for you. It begins the process of breaking down food, essentially giving the digestive system a break and making it easier for your gut to absorb the healthful components.
Pineapple Cucumber Ginger Detox: Is This a Take on "Detox" Smoothies?
While this smoothie can support digestion and reduce inflammation, it's vital to understand that no drink can entirely detoxify your body.
The liver and kidneys naturally detoxify, and while some feel refreshed on detox diets, it's usually due to healthier food choices, not any "detoxing" magic. The best way to genuinely improve health is through a balanced diet, not a fleeting detox trend.
Is Cucumber Good for Constipation?
Absolutely! The water content in cucumber makes it a natural aid for constipation. Including it in your smoothies can make for a delicious way to keep your digestive system running smoothly.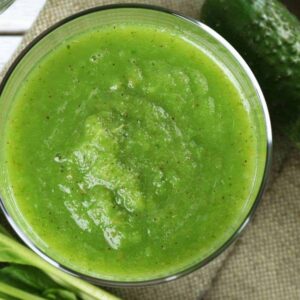 Pineapple Cucumber Ginger Smoothie for Gut Health
Refresh your mornings or energize your afternoons with our Pineapple Cucumber Ginger Smoothie. Not only is it delicious, but it's also crafted to promote gut health, especially for those battling with IBD.
Ingredients
1

cup

pineapple

fresh or frozen

1

cup

baby spinach

1/2

cup

water

1/4

medium

cucumber

roughly chopped

1 1/2

tsp

lemon juice

fresh

1

tsp

ginger

fresh, grated, optional
Instructions
Add all ingredients to a blender and blend until smooth.

Pour into a glass and enjoy!
Notes
Leftovers

Best enjoyed immediately.

Serving Size

One serving is approximately 1 1/2 cups.

Likes it Sweet

Add honey, dates, or another sweetener of choice to taste.

More Protein

Add hemp seeds.

More Omega-3s

Add chia seeds.

Pineapple

If using fresh pineapple add ice cubes for a colder smoothie.
Nutrition
Serving:
1
Serving
Calories:
104
kcal
Carbohydrates:
26
g
Protein:
2
g
Sodium:
30
mg
Potassium:
474
mg
Fiber:
3
g
Sugar:
18
g
Vitamin A:
2988
IU
Vitamin C:
92
mg
Calcium:
76
mg
Iron:
2
mg
Take Home Message
This pineapple cucumber ginger smoothie is more than just a tasty treat; it's a blend of digestive wellness. Each ingredient is a powerhouse for promoting gut health and aiding those with IBD. So, why not give this smoothie a try?
Looking for more IBD-Friendly Beverages?
Here some recipes for inspiration: