Net weight: 3.5 oz (99 g)
Ingredients
Ginger, cinnamon, cardamom, and cloves.
Nutritional Benefits at a Glance
Gingerol
Has potent anti-inflammatory and antioxidant effects
Appears to be highly effective against nausea and potentially help people with indigestion
Cinnamaldehyde
Is responsible for most of cinnamon's powerful effects on health
Also contains large amounts of powerful antioxidants, creating a potent anti-inflammatory effect
Rich in antioxidant compounds that may help protect cells from damage and prevent inflammation in the body
Manganese
Plays a positive role in bone health by working in concert with other vitamins and minerals to improve bone density
Has strong antioxidant properties that may reduce inflammation
High in antioxidants, including eugenol, which can help reduce inflammation
Uses
Spices are distinguished from herbs by their origin: herbs are derived from leaves, while spices are from other parts of the plant like bark, flowers, fruit, or roots of a plant. This warm, sweet, delicate spice blend will add flavor to oatmeal, tea, or any baked goods!
Allergen Statement
May contain traces of tree nuts, peanuts, wheat, or soybeans.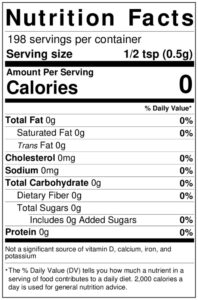 Recipes
Looking for inspiration or guidance on how to use the EWCC Sweet Blend? Check out the sample recipes below:

Spiced Pancakes with Orange Zest


Spiced Almond Milk Smoothie


Gingerbread Chocolate Chip Cookies

Testimonials
"The sweet blend is soooo good! We've used it in our waffle and pancake mix, in coffee and tea, in oatmeal, and even on some delicata squash! The flavors are really complex (in the best way possible)."


John DoeCEO
"I tried the sweet blend during winter time. It made me feel warm inside but was gentle on my stomach."
John DoeCEO
"I used the sweet blend this morning in my coffee! It was delicious."
John DoeCEO
I made some cookies with the sweet blend! YUM!!
John DoeCEO
I loved using the sweet blend to make French toast!
John DoeCEO
I steeped the sweet blend in hot water to create my own herbal tea. I liked it a lot!
John DoeCEO
Previous
Next